HENRY LAKE'S MARCH 1811 CONTRACT
(Original in the New York Public Library)

Go directly to the typescript of this letter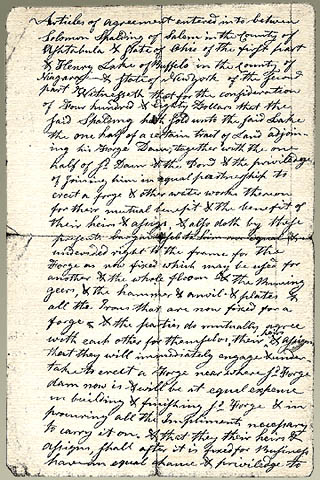 Computer enhanced copy of NYPL's Lake-Spalding Paper
View the NYPL's 1999 certification of this document
New Broadhurst typescript of this document





History of this Document

This 1811 agreement between Solomon Spalding and Henry Lake of New Salem, Ohio, was Mr. Lake's personal document, kept among his family's possessions until his daughter-in-law, Mrs. Hiram Lake, donated it to the New York Public Library in 1914, along with the 1833 Aaron Wright draft letter. See the explanation accompanying the on-line text of the latter document for more information on how Mrs. Hiram Lake came to have these papers prior to 1914.


The Iron Forge at New Salem

From all evidence available, it seems that Solomon Spalding built the first iron forge in what is now Ashtabula County, Ohio. Some accounts say that he built a "foundry" at New Salem prior to 1812, but his operation was simply a furnace in which he refined local "bog iron ore" into crude hunks of metal, coupled with a water-wheel driven trip hammer with which he formed the hot metal into bars, rods, and plates. These products he then disposed of to professional or amateur blacksmiths, who produced nails, horse shoes, ax blades, iron cookery ware, and other useful items for the Ohio frontiersmen. Iron working was a specialized business and it is likely that Spalding learned quite a bit about the trade prior to his moving to Ohio in 1809.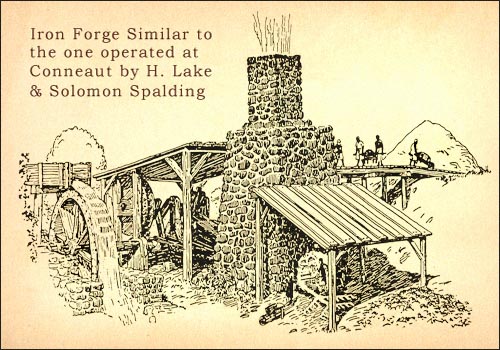 A passage in Spalding's unfinished, fictional "Oberlin manuscript" may be somewhat autobiographical. The published version reads:

He still continued to associate among the people, & was indefatigable in his labours to dispel their ignorance, correct their superstition & vices & to diffuse a more accurate knowledge of the mechanical arts. The manufacture of Iron in particular was not known. This he taught a number by showing them how to build a small furnace, & to cast iron ware & then how to build a small forge & there refine pigs, & convert them into Iron.

The hero, in that passage of Spalding's story, was less interested in personally performing the arduous tasks of metal refining and casting than he was in simply instructing the local people in "a more accurate knowledge of the mechanical arts." Contrast these intellectual "labours" with the more hands-on approach of Nephi in the Book of Mormon:

I said, Lord, whither shall I go, that I may find ore to molten, that I may make tools... And it came to pass that I, Nephi, did make bellows wherewith to blow the fire, of the skins of beasts... I did make tools of the ore which I did molten out of the rock. And when my brethren saw... they began to murmur against me... And as they came forth to lay their hands upon me, I spake unto them, saying... I command you that ye touch me not, for I am filled with the power of God... I stretched forth my hand unto my brethren, and... the Lord did shake them (1 Nephi 5:71-164, RLDS ed.)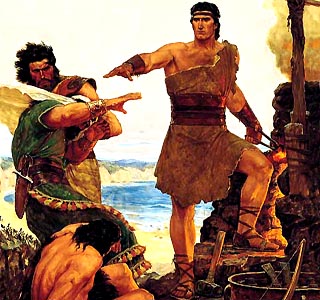 Nephi's Forge by LDS artist Arnold Friburg



Wilber Stout furnishes the following description of the iron business:

In principle the forge was just a large pattern of the tools of the blacksmith. Most of the Ohio forges worked on pig metal and not from iron smelted in the process from prepared ores. Pig iron from the charcoal furnaces was heated in charcoal on a large stone or fire-brick hearth with an air blast from a bellows operated by water power. In this way the metal was heated slowly to a soft malleable condition and was then placed under the hammer and pounded into the desired shape of bars, rods or sheets. The process also removed impurities and changed and cemented the grains into a stronger more tenacious mass.

The tilt-hammer, the common form of hammer in use with the pioneers, consisted of a horizontal shaft or hammer stock, pivoted as a lever of the first order with a hammer head on one end and the power attachment on the other. The hammer, often weighing nearly a ton, was raised vertically through a small arc, for one or two feet, by a rotary cam-shaft and then allowed to drop on the piece of hot iron on the anvil. As hammered the iron was turned by the workmen and thus gradually shaped into bars... With the early forges the operating force was water power ("Early Forges in Ohio." Ohio Archaeological and Historical Quarterly Vol 46: No. 1, Jan.-Mar. 1937, pp. 25-41).

According to Stout the first Ohio forges were built in 1809. He mistakenly dates Spalding's operation at New Salem to 1832, however. If Spalding began work on his iron plant when he arrived in Ohio in 1809, it may have been one of the first three such operations in the state. Stout says that the " Conneaut furnace and forge were built at Conneaut, in Ashtabula County, in 1832, on the flats of Conneaut Creek, a short distance above the site of the old paper mill. Through the forge a part of the pig iron produced by the Conneaut furnace was turned into wrought iron for bars, straps and rods. Henry Lake, Solomon Spaulding and Elias Keyes were at different times either proprietors or in some way interested in the works."

The question naturally arises, "When did Spalding begin work on his iron forge?" His neighbor, John N. Miller, said in 1833: "In the year 1811, I was in the employ of Henry Lake and Solomon Spalding, at Conneaut, engaged in rebuilding a forge. While there, I boarded and lodged in the family of said Spalding, for several months." Exactly what Mr. Miller meant by the word "rebuilding," he does not say. But the Mar. 8, 1811 Spalding-Lake Agreement provides a clue. In that paper (drafted by Solomon Spalding) the writer mentions an existing " frame for the Forge as now fixed" as well as a "floom (flume) & the Running geers, & the hammer & anvil & plates & all the Irons that are now fixed for a forge." This indicates that the main parts for operating an iron forge had already been set up on the pond where the local miller, Aaron Wright, had previously erected his grist mill. It is likely that it was Spalding himself who had hauled in all the equipment -- and he may have brought it with him when he came to the banks of Conneaut Creek in 1809.

The authors of the 2000 CD-ROM book, the Spalding Enigma, offer the following reconstruction of events:

In the autumn of 1809... [Solomon Spalding] moved with his family to Conneaut... There, following a six-month residence at the home of the Oliver Smith family (apparently no relation to Joseph), he undertook to reconstruct the small iron forge he had begun perhaps as much as six years earlier on a site just east of the village across Conneaut Creek, which he and another partner, Henry Lake, began to operate in March of 1811. This was described as "a long, low, shanty-like building of boards. In one end was his forge, and in the other he lived with his wife and kept a kind of grocery store." (p. 12).

Partnership agreement document dated 8 March, 1811... The forge utilized a trip-hammer and produced wrought iron. By all appearances Spalding had begun planning this project as early as 1803, and although details are sketchy it is clear from the partnership agreement that the heavy equipment was already at the site when the "reconstruction" effort began in 1811. There was also a large mill pond connected with the operation. (p. 43, n. 15)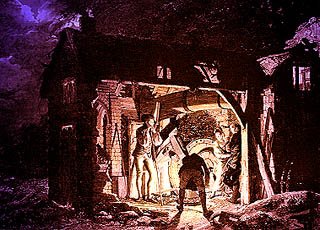 Early forge operation scene by artist Joseph Wright


Solomon Spalding may have indeed been "planning this project as early as 1803." Iron implements were a scarce and valuable commodity on the western frontier and Spalding may have been made aware of the local sources of bog ore near New Salem when he first visited that place. Bog ore is a ferric material that forms in glaciated spots where iron contaminated water collects in bogs. There resident acids and certain bacteria work together to create small lumps of ore. In the New Salem area these ferric nodules could be dug out of the local creek sediments, roasted over an open fire, crushed, and smelted to produce iron "bloom." Spalding would have been aware of the process from his youthful days in Windham Co. Connecticut (home of some early American forges).

It is doubtful, however, that Mr. Spalding (who left to grocery store business in New York in 1809) moved to Ohio and almost immediately "undertook to reconstruct the small iron forge he had begun perhaps as much as six years earlier..." Although he had made one or two brief visits to eastern Ohio previously, Solomon Spalding did not move his family there until 1809 and, according to John N. Miller, the actual "rebuilding" of the forge at New Salem did not commence until 1811, after Henry Lake had moved to New Salem from Buffalo. Miller's daughter, Rachael, confirmed this in 1884, saying: "My father, John N. Miller... [said] in 1811 he and Andrew Cochran helped build a forge or furnace for General Keyes at Conneaut, Ohio, and that they boarded with Solomon Spaulding." Captain, Andrew Cochran, was a millwright who arrived in Erie Co., Pennsylvania in 1803 and who lived near John N. Miller, just across the Ohio state line from New Salem: Cochran is mentioned in Samuel P. Bates' 1884 book, History of Erie County. Besides all this, Spalding's neighbor at New Salem, the Hon. Aaron Wright, in 1833, fixed the date of the first forge building in that place to the period after Spalding had moved there: "I first became acquainted with Solomon Spalding in 1808 or 9, when he commenced building a forge on Conneaut creek." In fact, Aaron Wright may have been personally involved in the later stages of the Spalding-Lake iron business at New Salem. In 1901 Mrs. Diadama Chittenden, a former resident of Ashtabula Co., Ohio, gave a somewhat garbled recollection of what she had heard during her early years -- that a certain gentleman named "Spafford" was once "a sort of overseer or superintendent for Squire Wright of Salem." A close examination of Mrs. Chittenden's reminiscences shows that this particular "Spafford" was actually her misspelling of "Spalding" and that Solomon Spalding may have had some business dealings with "Squire" Aaron Wright. It is not inconceivable that the ever penniless and needy Solomon Spalding sold out his share in the iron works to the Hon. Aaron Wright in mid 1812 and thereafter simply acted as Wright's agent in the business until he finally left Ohio.

As noted previously in quotes from the Spalding Enigma, Solomon Spalding's water-wheel was appatently located on the same mill pond where Aaron Wright had previously located his grist mill -- "on the flats of Conneaut Creek, a short distance above the... papermills" later built at Conneaut. In a c. 1811 draft of a an agreement between Solomon Spalding, Itham Joiner, and W[alter] Brigham ("to erect mill" and for "the privilge of water"), Spalding specifies that "Wright has preference." Joiner's and Brigham's names both appear on the 1816 Ashtabula land tax record, and Joiner's on the 1815 and 1819 lists of eligible voters of New Salem.

Between 1809 and 1811 Spalding had already constructed for himself a home on the banks of Conneaut Creek, large enough to host two working-men boarders. With the influx of Henry Lake's $480 in the spring of 1811, Spalding could afford to employ workmen to construct (or re-construct) the forge shop adjacent to his cabin on the east bank of the creek. Ownership of the defunct iron works business did not pass from Henry Lake to "General" Elias Keyes until some time after the latter gentleman's initial arrival in new Salem in 1815; however, all indication is that the Spalding-Lake-Keyes iron forge was commenced by Solomon Spalding c. 1809-10 and then refurbished and put into full operation by Lake and Spalding a few months after they signed their agreement to that effect on Mar. 8, 1811.


Solomon Spalding's Debility

Solomon Spalding wrote an odd provision into his 1811 agreement with Mr. Lake. It reads: "if Either party shall omit to work his turn, or the fine he shall take that the other shall have the priviledge to take his chance until he is ready to work again." This sounds as if, even before he and Lake got the iron works operating, Solomon Spalding had already foreseen the possibility that he might "omit to work." And, in fact, this is exactly what happened soon thereafter. Matilda Spalding McKinstry, his adopted daughter, said in 1880: "During the war of 1812, I was residing with my parents in a little town in Ohio called Conneaut. I was then in my sixth year. My father was in business there, and I remember his iron foundry and the men he had at work, but that he remained at home most of the time and was reading and writing a great deal."

Mr. McKinstry does not tell why Solomon Spalding remained at home, away from the iron works so much. Since his absence from the adjacent working place cost him financially, Spalding's reason for remaining at home must have had some genuine justification. One amateur historian (Dale W. Adams, in his 2000 article, "Dr. Philastus Hurlbut...") has speculated that Spalding was then "too crippled" by physical infirmities to summon up enough "energy" to attempt completing even minor tasks. Indeed, the man's old friends provide some verbal evidence for such a "crippling" debility. Joseph Miller said in 1879: "I was well acquainted with Mr. Spaulding while he lived in Amity, Pa. I would say he was 55 to 60 years of age; in person, tall and spare, and considerably stooped, caused in part, I think, from a severe rupture." Solomon Spalding, who had suffered from a delicate constitution since his youth, was perhaps physically unprepared to commence the heavy labor of ore refining and metal working he wished to carry out with his New Salem forge. It is quite possible that his hernia came as a result of heavy lifting in building or operating his iron works, even before he took on Mr. Lake as a partner in that business, and that the increasingly deleterious effects of his injury explains Mr. Spalding's taking on a business partner and his reason for writing the exceptional provision in their 1811 contract.

The severity of the Ohio iron entrepreneur's "rupture" was attested by his friend, Redick McKee, in 1869 ("He was afflicted with a rupture, which made locomotion painful, and confined him much to his house"), and again in 1887: "I was a boarder in the family of Mr. Spaulding, and became quite intimate with him. He was afflicted with a serious rupture which prevented him from taking much exercise in the open air." McKee also said: "he [Spalding] told me of his removal from Western New York to Conneaut... expecting to engage in some active business... in connection with Mr. Henry Lake he built a furnace for the manufacture of iron or iron wares. This proved unprofitable and resulted in a failure, which left him liable for debts to a large amount."


Did Spalding Die of Tuberculosis?

The RLDS Writer, Elder Evan A. Fry, wrote in 1944 that Solomon Spalding "moved to New Salem, now called Conneaut, Ohio, where with Henry Lake he established an iron foundry. That venture also failed, and in 1812, his health gone, he moved to Pittsburgh, Pennsylvania. A year or two later he moved to Amity, Pennsylvania, where he died of consumption in 1816." Unfortunately Elder Fry's 1944 article provides no citation for the latter allegation. Since no death certificate has survived to document the cause of Spalding's death, the notion that he developed (or worsened a pre-existing affliction) of tuberculosis while recovering bog iron nodules from the swamps of Ohio remains an enticing supposition.

Matilda Spalding Davison said in 1839: "Rev. Solomon Spaulding... resided in Cherry Valley, N.Y. From this place we removed to New Salem... upon Conneaut Creek. Shortly after our removal to this place, his health sunk, and he was laid aside from active labors." This statement gives the reader the impression that Solomon Spalding's reported chronic ill health came upon him only "after" his 1809 "removal" to Ohio -- that he was too ill to engage in "active labors" thereafter. This is probably an inaccurate over-generalization of his case, however. Oddly enough, none of the so-called eight "Conneaut witnesses" whose statements were published by E. D. Howe in 1834 mention that the man suffered from a chronic illness.

In his 1785 letter to Elijah Parish, Solomon Spalding himself says: "For my part, I am so unfortunate as not to be engaged in any lucrative employment. I have but just recovered my health, so as to be able to seek out for business." This he wrote no long after graduating from Dartmouth College, giving the impression that he suffered ill health during his last months of study there. Although he does not identify his illness in this letter, it was apparently one, the effects of which periodically increased or diminished.

After temporarily recovering his health and finding employment as an Evangelist among the Congregationalists, Spalding reportedly again suffered a prolonged case of sickness. His brother Josiah said in 1855: "When he [Solomon] left college he was out of health, and was so for years. He was approbated to preach as a Congregationalist, and followed that calling a number of years, but never settled, on account of his health, though often urged." The discriminating investigator might be forgiven for wondering whether of not Solomon Spalding was so very ill while living at New Salem as some later accounts suggest. Certainly he had the strength and ability to travel to Ohio before relocating there in 1809. He also had sufficient vigor and stamina to begin constructing a water-wheel driven, charcoal powered iron works once he arrived in Ohio. While the accident of an untreated hernia may have slowed him down to some extent, that apparently did not prevent his moving his family to Pittsburgh late in 1812 and temporarily operating a retail store once he arrived in that city. Could it be that Solomon Spalding was a malingering hypochondriac who played upon the sympathies of his associates, pretending to be an invalid in order to avoid preaching Christianity, doing honest work and paying off his considerable number of financial debts?

If Solomon Spalding was not seriously ill during the last months he spent in Ohio, he at least managed to impress a few people there that he was not a well man. Daniel Denison Spalding, the son of Solomon Spalding's younger brother John Spalding, stated in 1888 that his Uncle Solomon was "a very sickly man" and that the last time he saw his uncle "was at Conneaut Creek, just before he went to Pittsburg, where he died shortly afterwards."

The probable partial source for Elder Evan A. Fry's 1944 assertion that Spalding "died of consumption in 1816" was the in 1885 statement of William H. Leffingwell, who was a resident of New Salem when Spalding was still living there in 1812. Leffingwell's recollections were republished in the RLDS Saints' Herald, where Fry might have easily found them. Leffingwell stated that "Mr. Spalding was... about [35] years of age when I first fell in with him, was very poor, and sick with consumption, and towards the last nearly lost his voice..."

Although Solomon Spalding was recalled by several eye witnesses as reading his stories aloud to appreciative audiences, he might have done that in small groups, even with the diminished voice of a "consumptive." His diminished physical stature may have also been an indication of the effects of his long term struggle with tuberculosis. Joseph Miller described the man's tall body as being a "spare" one, and Redick McKee recalled in 1886 that, while at Amity (1814-16), Solomon Spalding "was about six feet in height, with a large frame though much reduced in flesh, and weighing only about 150 pounds." Confirmation of the tuberculosis diagnosis comes from William R. Hine's 1885 statement: "I heard Hurlbut lecture... He said Spaulding was consumptive and could not work, and wrote stories to procure a living... Spaulding tried to obtain money to pay for printing it [one of his stories]. While traveling he slept in the woods nights, took cold and finally died."

It was highly inadvisable for a man weakened by tuberculosis and crippled by an untreated hernia to go about "sleeping rough" in the woods during 1816 -- the year "without a summer" in which nighttime temperatures dropped below freezing for several months in a row. The effects of this reported misjudgment on Spalding's part were predictable. According to Joseph Miller's 1879 statement, "He died of dysentery in 1816, (in the fall, I think), after an illness of six or eight weeks." It appears unlikely that Mr. Spalding died of tuberculosis, directly. But the disease may have so weakened his bodily defenses that he was unable to fight off the dysentery which attacked him at Amity. It also appears unlikely that writer Dale W. Adams is correct in his recent assessment of Spalding's paltry physical condition during his last years in Ohio and Pennsylvania -- that he "died from tuberculosis" in 1816 and that during the four years prior to that misfortune, he had insufficient "energy to attempt [writing] a second manuscript as long and complex as the Book of Mormon."


1812 Failure of the Lake-Spalding Forge

It will be recalled that Mrs. McKinstry spoke of her father's Ohio business as being an "iron foundry." This description brings to mind a large-scale manufacturing enterprise and commercial venture employing the labors of many people. Abner Jackson, a friend of the Spalding family, corrected Mrs. McKinstry's recollection at this point, by saying in 1880: "Mrs. McKinstry says that her father's iron works was a foundry. This was the little girl's view of it. It was a forge of the older type. Iron was made from ore under a trip hammer, as there were no rollers in this country at that time." This same Mr. Jackson had further personal knowledge of Mr. Spalding's business activities in Ohio:

Spaulding contracted for large tracts of land along the shore of Lake Erie... My father exchanged with him the farm on which he lived... [and moved there in 1805]. Spaulding sold his store in Richfield, and moved to Conneaut, Ashtabula County, Ohio, and built a forge on Conneaut Creek, two miles from Conneaut Harbor and two miles from the State line. In building this he failed, sold out, and about the beginning of the year 1812, commenced to write his famous romance called by him "The Manuscript Found."

There is an apparent conflict in the recollections of McKee and Jackson, as to just when Spalding's iron works venture began to fail. The former account has Spalding and Lake engaging in a business that soon "proved unprofitable and resulted in a failure;" the latter account has Spalding failing in his venture during the initial building stage of the forge and then selling out to another operator (presumably to Henry Lake in 1811). What actually appears to have occurred is that Spalding first "failed" in the initial construction of his forge in 1809-10 -- perhaps partly because of bodily infirmity -- and then both he and Henry Lake "failed" to make the business profitable in its operations during 1811-12. Spalding left New Salem before the end of 1812 and Lake disposed of the defunct iron works by turning the business over to Elias Keyes in 1815 or 1816.

Henry Lake himself said in 1833:

I left the state of New York, late in the year 1810, and arrived at this place [New Salem], about the 1st of Jan. following. Soon after my arrival, I formed a co-partnership with Solomon Spalding, for the purpose of re-building a forge which he had commenced a year or two before... [then,] the [rebuilt] forge not meeting our anticipations, we failed in business.

Solomon Spalding's brother John added this information, also in 1833:

Solomon Spalding... removed to Cherry Valley, N. Y, and commenced the mercantile business in company with his brother Josiah. -- In a few years he failed in business, and in the year 1809 removed to Conneaut, in Ohio. The year following, I removed to Ohio, and found him engaged in building a forge. I made him a visit in about three years after; and found that he had failed, and considerably involved in debt.

In fact, John Spalding lived near his brother Solomon throughout 1810 and 1811. John's name appears on the 1811 list of eligible voters in New Salem. However, John did not enlist with his Ashtabula County neighbors in Capt. Jesse D. Jackson's platoon for service against the British during the War of 1812. The Ashtabula volunteer unit was mustered on Aug. 23, 1812 and included several New Salem residents. The 1812 list includes: Lieut. John Rudd, Jr., Sergt. Erastus Rudd, Pvt. Peter King, Jr., Pvt. Linus Scovill, Pvt. Joel Wooden (the latter two signed the 1811 Lake-Spalding agreement as witnesses), etc. The authors of the Spalding Enigma find it notable that Erastus Rudd was a resident of New Salem and that he is listed on the above mentioned 1811 list. On page 90 of their book they call him "the only person known to have been living in the Conneaut community during the time of Spalding's residence there, who later became a Mormon," and point out that Erastus died on Joseph Smith's 1834 "Zion's Camp" military expedition to Missouri. Whether he had by then been promoted from the rank of sergeant, time does not recall (LDS History of the Church, Vol.II, pg. 115). Actually Erastus; brother, Lieut. John Rudd, Jr., apparently also became a Mormon, along with another brother, Cyprian. History loses track the two latter Rudds after Oliver Cowdery visited Cyprian near Columbus, Ohio in 1836 ("Oliver Cowdery's Sketch Book" entry for Jan. 9, 1836). For more on Erastus Rudd and Solomon Spalding see Elder Daniel Tyler's article in the Jan. 16, 1878 issue of the Deseret Evening News.

No doubt John Spalding had obtained farm land in adjacent Pennsylvania by the beginning of 1812 and it was in the latter year that he made the reported "visit" of "about three years after." At some point in time, probably in the fall of 1812, Solomon Spalding packed up his meager belongings and relocated his family to Pittsburgh. It is possible that he was assisted in this move by his brother John and that the relocating family stopped over for a few days or weeks at John's farm (on the road between New Salem and Pittsburgh) before reaching the "big city" of 5000 inhabitants near the end of the year.

On Nov. 4, 1812, the Ashtabula Court of Common Pleas heard the case of William F. Miller against Solomon Spalding, therein laying claim upon the remaining assets of Spalding located in the county. Miller's claim was for an unpaid debt of $3,046.11 and was filed with the court based upon "a mortgage deed executed by said Solomon Spalding, to said William Miller, bearing date of 3 day of March, 1803." The Court issued its judgment in favor of William F. Miller on Jan. 8, 1813. There is nothing in the record to indicate that Spalding bothered to attend or to send a lawyer to look after his interests. There is every reason to believe that by Nov. 1812 he had left Ohio and was living in eastern Pennsylvania.

According to the remarks attached to a deed dated Mar. 24, 1813, Ashtabula Sheriff Quintus F. Atkins had "several times" offered for auction "to highest bidder" the few lots of land still listed under Spalding's name on the property records. The highest bidder (and seemingly the only bidder) was William F. Miller; he recorded his new deed at the courthouse in Jefferson on April 20, 1813. The lot of land where the Lake-Spalding irons works stood was apparently not among the lots recovered by Mr. Miller. It is though that Henry Lake disposed of the land and improvements to Elias Keyes in about 1816.



---



Dale R. Broadhurst's Typescript (2001)

of the Mar. 8, 1811 Henry Lake Contract
____________

Graphic: Obverse of 1811 Henry Lake Contract




[typescript of obverse]


Articles of agreement entered into between
Solomon Spalding of Salem in the county of
Ashtabula & state of Ohio of the first part
& Henry Lake of Buffalo in the county of
Niagara -- & state of New York of the second
part Witnesseth that for the consideration
of Four hundred & Eighty Dollars that the
said Spalding hath sold unto the said Lake
the one half of a certain tract of Land adjoin-
ing his Forge Dam, together with the one
half of sd. Dam & the Pond & the priviledge
of joining him in equal partnership to
erect a forge & other water works thereon
for their mutual benefit & the benefit of
their heirs & assig[n]s, & also doth by these
presents bargain and sell to him an equal &
undevided right to the frame for the
Forge as now fixed which may be used for
another & the whole floom & the Running
geers, & the hammer & anvil & plates &
all the Irons that are now fixed for a
forge -- & the parties do mutually agree
with each other for themselves, their heirs & assigns
that they will immediately engage & under-
take to erect a Forge near where sd. Forge
dam now is & will be at equal expence
in building & finishing sd. Forge & in
procuring all the Implements necessary
to carry it on & that they their heirs &
assigns, shall after it is fixed for Business
have an equal chance & priviledge to


[typescript of reverse]

work & manage sd. Forge for their
own benefit. -- & that after four months
shall expire from the time it shall
start & do business, if Either party shall
omit to work his turn, or the fine he
shall take that the other shall have the
priviledge to take his chance until
he is ready to work again. & as to
the priviledge of procuring Oar each party
shall have an equal chance of obtaining
any oar that is or may be found, so
that neither party shall make a bargain
which shall exclude the other from the
same priviledge that he has himself
as it respects said Oar. -- In witness
whereof we hereunto set our hands
and seals this 8th day of March 1811


In presence of

Linus Scovil
Joel Woodin
Solomon Spalding (SL)


Henry Lake (SL)



Notes: (forthcoming)