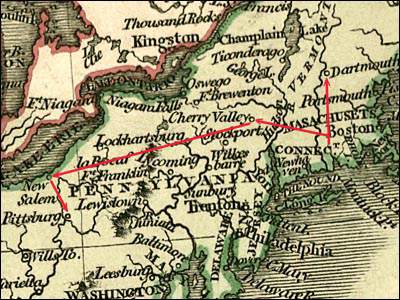 The Travels of Solomon Spalding, from Ashford, CT to Amity, PA.




Solomon Spalding's 1785 Letter
Transcriber's Comments

The letter is addressed to Elijah Parish, Jr. (1762-1825), whom Spalding affectionately calls "Billie." At the time this letter was written, Parish was reportedly studying divinity at Taunton, Bristol Co., Massachusetts. Spalding's letter was sent to Norton, which is located a few miles northwest of Taunton.

In their 2000 CD-ROM book, The Spalding Enigma, the authors supply the state name of "Connecticut" after the town name of "Plainfield" in the letter's address. This may appear to be a geographical uncertainty, since Plainfield, Massachusetts, Plainfield, Vermont, or Plainfield New Hampshire, respectively would also qualify as a location west of Norton (Spalding says that he had heard that his friend Parish "had gone east"). However, Spalding says in the letter (02:17-18) that he was writing while visiting at the home of Elijah Parish, Sr. (Dada), who was at that time living in Plainfield, Windham Co., Connecticut (see the 1790 U. S. Census report for Connecticut). According to the U. S. Census reports, there were no Parishes living in or around the other three New England Plainfields betwen 1790 and 1800; this fact probably precludes the notion that Solomon Spalding may have been in the neighborhood of Dartmouth College (at nearby Plainfield New Hampshire) when he wrote his 1785 letter to Parish. So, it seems that a recuperating Solomon Spalding had traveled from Ashford to nearby Plainfield to visit his friend and Dartmouth College classmate, only to find that he had recently departed for Bristol Co., Massachusetts, two counties due east of Windham.

In about 1782 Solomon had temporarily departed Windham Co., to attend school at Dartmouth College in Hanover, New Hampshire. At that time Solomon may have lived with or near his Uncle Ruben Spalding at Sharon, Windsor Co. Vermont, ten miles west of the college. Since Elijah Parish was also born in Connecticut, and since he graduated from Dartmouth, alone with Solomon, in 1785, it is possible that the two young men went off to school in Hanover together, and, while living in that area, maintained a previous friendship. Apparently it was during these years of his life, perhaps not long after his graduation from college, that Spalding experienced a religious conversion to the tenets of the Congregational faith. Solomon Spalding's brother John recalled (in 1833) that Solomon "entered Dartmouth College, with the intention of qualifying himself for the ministry..." Whether or not Solomon had actually decided upon a religious career that early in life, both he and his Dartmouth classmate, Elijah Parish, eventually became Congregational ministers

It is not known how long Solomon lingered in the Hanover, New Hampshire region following his graduation from college in early 1785. According to his brother Josiah, the Dartmouth graduate was subsequently "out of health." Possibly the unwell Solomon managed to spend some time after his graduation with relatives in the area (i. e., Sharon, Vermont) before moving back to to the family home in Ashford, Windham Co., Connecticut.

In his letter to "Billie" Parish, Solomon says nothing of religion and nothing of Parish's studies in divinity with the Rev. Ephraim Judson of Taunton. Probably Parish had not yet commenced those studies. Parish completed his ministerial training and was ordained the pastor of the Congregational church in Byfield, Essex Co., Massachusetts on Dec. 20, 1787. Presumably Parish finished his divinity course work at least several weeks before his ordination.

In his letter to Parish, Solomon Spalding says that he had only recently "recovered my health." It is likely that Solomon suffered from consumption (tuberculosis) for much of his life and that the disease contributed to the cause of his early death in 1816. Having been ill, and having only recently "recovered" enough to visit Parish's father in Plainfield, Connecticut at the end of 1785, it is reasonable to assume that Solomon spent the fall of that year close to his family in Ashford. By December he was looking for gainful employment as a teacher and thus was very interested in the fact that his friend Parish was "in business" with the expectation of being paid "a little of the root of all evil."

It is entirely possible that Solomon Spalding followed through with his intention of paying his friend Parish a visit in Norton or Taunton, and, that while staying there, he was able to find temporary employment for himself as a teacher. If so, by the time Solomon was reunited with his college friend, Parish must have already decided to embark upon study for the ministry with Rev. Judson. During 1786-87 Solomon decided to follow Parish's example and study divinity himself, although where and with what particular mentor he did so remain undiscovered.




Did Dartmouth Grant Spalding an A.M. Degree?

Solomon's brother Josiah, said (in 1855), that Solomon "did not study theology in any public school after he left college. When he left college he was out of health, and was so for years. He was approbated to preach as a Congregationalist, and followed that calling a number of years, but never settled on account of his health..." In contrast to this recollection, John Spalding said that Solomon "entered Dartmouth College... where he obtained the degree of A. M. and was afterwards regularly ordained..." The seeming conflict between the two brothers' statements may be resolved in the likelihood that Solomon studied for the ministry privately and close to his home in Ashford. After several months of such private instruction in divinity, Solomon might have easily been granted a Master's degree from Dartmouth, without his having formally studied "theology" at the school. Living, studying, and occasionally teaching, along with his friend Elijah Parish in Taunton, Massachusetts would have allowed Solomon to nurse his delicate health, while at the same time obtaining the education necessary for employment as a Congregational minister. While there is no additional evidence available to indicate that Solomon Spalding did live and study in Massachusetts between 1786 and 1787, he may well have obtained his ministerial training in this way.

Of all the primary sources relating to Solomon's education, only the statement provided in 1833 by his brother John offers any information on Solomon having obtained a garduate degree. John's remark is simply says that his brother attended "Dartmouth College... where he obtained the degree of A. M." The Dartmouth Records Office, however, retains no documentation of Solomon having received a Master's degree from the College. The only source offered by that school which in any way confirm's John's recollection is the 1940 Dartmouth College... General Catalogue 1769-1940, which (on page 75) lists: "Spaulding, Solomon AM. b 20 Feb. 1761..." The Catalogue does not say when or where Solomon received the "AM" (Arts Master) degree attached to his name; possibly this appellation was derived from the 1877 Spalding Memorial genealogical compilation, which, in turn, probably picked up the "AM" from the statement of John Spalding. Thus, while it is quite possible that Dartmouth College did award Solomon the dignity of a Master's degree in 1786 or 1787, the granting of such a degree to him remains undocumented.




Did Spalding Attend Dartmouth With Ethan Smith?

There remains the additional problem that Ethan S. Smith, a grandson of Rev. Ethan Smith, reported (in 1887) that a certain "Rev. Dr. Smith" wrote "a work" propounding "the belief that the North American Indians were descended from the lost tribes of Israel," and that this same Dr. Smith had "granted" Solomon Spalding (who "when a young man studied under his tuition") a perusal of his unpublished book." Some writers have speculated that this paraphrase of the grandson's report indicates that Solomon Spalding was at Dartmouth College, and knew Ethan Smith, at the time Ethan attended school there, between 1786 and 1790. This speculation is not entirely unfounded; as mentioned above, Solomon reportedly did receive a Master's degree from some school after 1785 and that school may well have been Dartmouth. Even if Solomon obtained most of his education in divinity at the hands of a private mentor like Rev. Judson of Taunton, that fact would not have precluded his returning to Dartmouth for a few months in 1786-87 to complete additional course work, such as a class in biblical Hebrew. Under those circumstances Solomon Spalding could have easily met and begun a friendship with the young Ethan Smith. The more likely scenario, however, is that both Solomon Spalding and Ethan Smith studied separately under Dr. John Smith, a professor of Biblical Languages and "Natural Philosophy" at Dartmouth, who is known to have been interested in various theories for Indian origins. For more on Dr. John Smith's teachings on Indian origins, see Byron Marchant's 1994 Mormon Roots, p. 15, n. 84. For more on Dr. John Smith's teaching of biblical languages, see Shalom Goldman's "Biblical Hebrew in Colonial America:The Case of Dartmouth," in American Jewish History 74:2 (Autumn 1989) pp. 173-179. The "Rev. Dr. Smith" so vaguely mentioned several times in the 1887 published paraphrase of the grandson's statement may not have been (in each and every case) his Grandfather Ethan Smith.

Whatever his ministerial training may have been, Solomon Spalding became a licentiate of the Windham, Connecticut, Congregational Association on October 9, 1787. This was effected at about the same time that Solomon's friend Elijah Parish must have finished up his own study of divinity under Rev. Judson in Massachusetts. Until additional evidence become available to demonstrate a different course of action by Solomon Spalding, it is reasonable for students of his sketchy biographical history to assume that he either studied divinity during 1786-87 under Rev. Ephraim Judson of Taunton, or with an instructor very much like Rev. Judson, who lived and taught in the region adjacent to Windham Co., Connecticut.