| | |
| --- | --- |
| Lyme Oct 8th 1794 | 02:01 |
| Dear Brother, | <! 02:02> |
| | |
| --- | --- |
| teel portmantau made in the newest | 03:01 |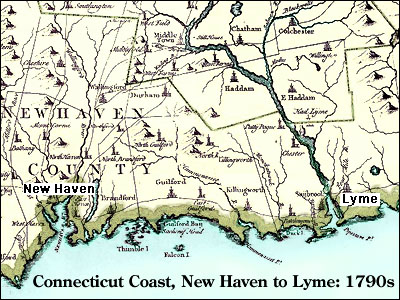 The Travels of Solomon Spalding: Southern Connecticut, Early 1790s.




Solomon Spalding's 1794 Letter
Transcriber's Comments

The letter is addressed to Josiah Spalding, Jr. (1765-1859), who was Solomon Spalding's younger brother, and to Miss. Soldendia (or Solenda) Spalding (1771-1853. At the time this letter was written Josiah was 29 year old bachelor who still lived on or near the family farm at Ashford, Windham Co., Connecticut. Soldendia also then lived at home and did not marry until 1818.

Solomon wrote the letter from Lyme, on the Atlantic coast, some 45 miles southwest of the Spalding farm at Ashford. He provides an impression in his letter of having previously been in both Lyme and New Haven, and of only recently deciding to remain in Lyme in order to take over the "desk" of a certain Mr. Wiggins, who was perhaps a professional man or business man in Lyme at that time. It is possible that Wiggins was a clergyman and that Solomon took over his ministerial duties in Lyme on Sunday, Oct. 5th, 1794. However, it is equally possible that Solomon had, by that time, disassociated himself from his previous duties as a Congregational Evangelist. If that was the case, the "desk" of Mr. Wiggins may have that of a businessman or a lawyer -- both professions in which Solomon Spalding was known to dabble at various times in his life.

This letter contains little or no information useful in determining what Solomon's occupation was near the end of 1794. The saddle and traveling trunk he requested from his brother Ephraim (1769-1815) would have been equally useful to a circuit-riding Congregational preacher or to a young man engaged in some other work requiring jaunts away from home. It is likely that Solomon visited New York City (a day's horse ride from New Haven) in the early 1790s and he may have even found employment there temporarily. Abner Jackson, who in his youth knew Solomon Spalding personally, said in 1880 that "for a time" Solomon had been "a settled pastor in the city of New York."

Whether or not he was still employed by the Congregationalists in the last half of 1794. it must have been about then that Solomon Spalding decided to give up his work as a minister. Although he probably gave his frequent bouts of ill health as his official excuse from retiring as a preacher (his general stamina and preaching voice having become rather diminished), his real reason for quitting may have been that he simply did not believe in the Christian religion any more. There are several clues evident in his writings which point to the fact that Solomon became a Deist -- a profession of religious philosophy then quite popular among the well educated in Europe and America.

Solomon's nephew, in 1888, recalled hearing that his uncle was "irreligious, crooked in his business transactions, and 'lazy." According to a recollection attributed to Solomon's friend, John N. Miller, "his wife was not religious. She was high-strung, a frolicker, fond of balls and parties, and drove him out of the ministry." Assuming that Solomon knew Matilda Sabin, of Pomfret Connecticut, for at least a moderate length of time before their 1795 wedding, he may have gone to work in Wiggins' place to help finance their expected marriage. In his 1794 letter to Josiah, Solomon speaks of his temporary substitution for "Mr. Wiggins" being for a term of "four months." If Wiggins returned to his old position at the end of that period, Solomon must have again been out of work and able to relocate his residence elsewhere by the first week in January 1795. And that was exactly what he did. Solomon married Matilda Sabin on Feb. 21, 1795, probably in Connecticut or possibly in neighboring Massachusetts. Shortly thereafter ex-preacher Solomon Spalding and his new, non-religious bride moved to Cherry Valley, Otsego Co., New York, where Solomon joined his brother Josiah in operating a retail store.