Dale's Comments, Part 5: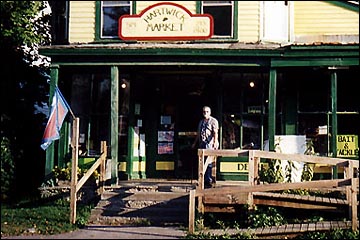 Dale R. Broadhurst at the Hartwick, N. Y. General Store -- 2002





We're Off to See the Widow!

I hope Matthew got paid for all his apologizing, because he's sure done a good job of it. He goes on to tell us that "Philastus Hurlbut paid a visit to Spaulding's [sic] widow and after being shown her husband's unpublished document he took it with him to Eber D. Howe's print shop in Painesville, Ohio -- with a promise to the widow of future publication and a share in the profits." That sounds like a useful explanation of things, put forth in defending the LDS Church's traditional "party line" -- but is it really what happened? I think that the set of events Matthew has here blithely glided over was a bit more complex and significant than he has tried to make us believe.

First of all, we should ask ourselves the question, Why did D. P. Hurlbut go to all the trouble and expense, to travel from Palmyra, New York (were he had been collecting statements useful to the anti-Mormons) to Monson, Massachusetts (where Spalding's widow lived)? The traditional Mormon response has generally been that, after fabricating the "Spalding theory," Hurlbut "paid a visit to Spaulding's widow" in order to obtain and destroy any evidence contrary to the bogus "theory" he had cooked up against the Latter Day Saints. My thoughts on the situation are somewhat different. Hurlbut's wife Maria said that her husband "spent about six months time and a good deal of money looking up the Spaulding manuscript and other evidence." In 1885 Maria divulged the following recollection concerning her late husband:


"He was employed by leading citizens of Mentor and Geauga Co. to investigate the character of the Mormon Smith Family and the Origin of the Book of Mormon. He went to Palmyra NY by stage and at Conneaut learned... that Spaulding had taken his Manuscript Found to Pittsburgh Pa... Mr. H. lectured on Mormonism while collecting evidence against them in NY and Ohio. In the spring of 1834 he sold E. D. Howe editor of the Painesville Telegraph his Manuscripts."

I believe that, about the end of August, 1833, Mr. Hurlbut left Gauga Co., Ohio by stagecoach, with a wad of money collected from the anti-Mormons in his pocket, bound for Palmyra, New York. Along the way he stopped off at Salem (since 1834 called Conneaut) Ohio, "lectured on Mormonism," and collected a few more donations to help finance his evidence collecting. At that time, after soliciting letters of recommendation and conducting more interviews among Solomon Spalding's old associates in that neighborhood, it became clear to him that Spalding "had taken his 'Manuscript Found' to Pittsburgh" near the end of 1812. In his 1885 statement Eber D. Howe says: "John Spaulding, a brother of Solomon directed him [Hurlbut] to Pittsburgh Pa., where Solomon had taken his manuscript to have it printed." According to Elder Daniel Tyler: "Previous to the publication of E. D. Howe's book... the said Doctor [Hurlbut]... went to Pittsburg with the avowed intention of obtaining the romance."

The trustworthy (?) Ben Winchester tells the story a little differently:


"Mr. H. while in conversation with Mrs. Davieson, learned that Mr. S. removed from New Salem to Pittsburgh, Pa., in the year 1812... and no sooner had Mr. H. returned to New Salem, than it was thought best that he should immediately repair to Pittsburgh, and see if Mr. S.'s manuscript had ever been left there.... After Mr. H. returned from Pittsburgh, he went to Kirtland, Ohio."

While I agree that D. P. Hurlbut traveled from the Conneaut region, south to Pittsburgh on an investigative side-trip, I seriously doubt this occurred during frigid, snowy end of December 1833, between the time that he submitted his Dec. 20th "press release" to the Wayne Sentinel and Dec. 27th, when Justice of the Peace John C. Dowen says he recorded Joseph Smith, jr.'s civil complaint against Mr. Hurlbut in his docket book. There simply wasn't sufficient time available for Hurlbut to travel from New York to Ohio; backtrack to Pittsburgh; make useful discoveries there; and then return to the Kirtland area and there hold a number of his anti-Mormon lectures, before Judge Dowen issued the writ which led to his arrest at Painesville on Jan. 3rd or 4th. Besides which, his lawyer says Hurlbut, prior to his arrest, had exhibited in Mentor a Spalding document he obtained in Pittsburgh. Mr Briggs says:


"In the winter of 1833-34, a self-constituted committee of citizens of Willoughby, Mentor, and Painesville met a number of times at the house of the late Mr. Warren Corning, of Mentor, to investigate the Mormon humbug. At one of the meetings we had before us the original manuscript of the Rev. Solomon Spaulding... The 'Manuscript Found.' It was obtained from Mr. Patterson, or Peterson, a publisher of Pittsburg, Pa., with whom negotiations had once been made towards its publication."

In another place, Mr. Briggs says practically the same thing:


"In the winter of 1833-'34 several gentlemen in Willoughby, Painesville, and Mentor formed themselves into a committee to inquire into the origin of the Mormon Bible... They employed a man by the name of Hurlbut, who was once a Mormon, to help in the investigation. He went to Pittsburgh and found a printer there for the manuscript of the book written by the Rev. Solomon Spalding, 'The Manuscript Found.' We compared it with the Mormon Bible, and the names and language and style of the Bible were so like the manuscript that all were convinced that the "Mormon Bible" was made out of this manuscript of Spalding."

Mr. Briggs, along with the rest of the anti-Mormon "committee" members, was largely dependent upon what Hurlbut told him in obtaining this information. The results of that communication are not to be relied upon for any exemplary accuracy, but I think Briggs' account of things does help demonstrate that D. P. Hurlbut made a side-trip to Pittsburgh, in the course of his 1833 investigative travels to the east. Undocumented assertions made in the final pages of Howe's book, regarding Lambdin, Patterson, etc. also indicate that somebody had been to Pittsburgh, and there solicited and received at least some minimal information and material relating to Spalding's "Manuscript Found." Whatever it was that D. P. Hurlbut discovered in Pittsburgh, in about September of 1833, it was not enough to cause him to cancel his plans to visit Palmyra and gather useful statements from the residents of the area. Evidently the Geauga Co. anti-Mormons had paid him to go and gather information in New York, no matter what supplementary material he might uncover along the way relating to Spalding.

Solomon Spalding's widow had this to say in her Apr. 1, 1839 statement:


"The excitement in New Salem became so great, that the inhabitants had a meeting and deputed Dr. Philastus Hurlbut, one of their number to repair to this place and to obtain from me the original manuscript of Mr. Spaulding, for the purpose of comparing it with the Mormon Bible... Dr. Hurlbut brought with him an introduction and request for the manuscript, signed by Messrs. Henry Lake, Aaron Wright and others, with all whom I was acquainted, as they were my neighbors when I resided in New Salem."

Although D. P. Hurlbut was probably never called "one of their number" by the inhabitants of the Conneaut area, several of its people, when he passed through and lectured there at about the end of August, were no doubt happy to supply him with letters of introduction, etc. But were these certifications and a "request for the manuscript" necessarily addressed to Mrs. Matilda Spalding Davison, the widow of Solomon Spalding? I doubt it.

Solomon Spalding's foster daughter, Mrs. Matilda S. McKinstry, in 1880, gave her recollection of what Matthew calls Hurlbut's "visit":


"I believe it was in 1834 [sic, Nov., 1833] that a man named Hurlburt [sic] came to my house at Monson to see my mother, who told us that he had been sent by a committee to procure the 'Manuscript Found' written by the Rev. Solomon Spalding so as to compare it with the Mormon Bible. He presented a letter to my mother from my uncle, Wm. H. Sabine, of Onondaga Valley, in which he requested her to loan this manuscript to Hurlburt... On the repeated promise of Hurlburt to return the manuscript to us, she gave him a letter to Mr. Clark to open the trunk and deliver it to him. We afterwards heard that he had received it from Mr. Clark at Hartwicks, but from that time we have never had it in our possession."

Two years later Mrs. McKinstry provided some information in which she says essentially the same thing: "My mother delivered it [the "Manuscript Found"] up for publication to a Mr. Hulburt who came to our house in Mass. for it, bearing letters of introduction from my uncle, a Mr. Sabine, a lawyer in New York State." 1

From all of this testimony I am led to believe that D. P. Hurlbut learned of the location of William H. Sabine's home on the outskirts of Syracuse -- probably from John and Martha Spalding -- and first went there, hoping to obtain a view of Spalding's old writings. Upon his arrival at Sabines' residence, the brother-in-law of the late Solomon Spalding would have informed Hurlbut that, yes, at one time Spalding's trunk full of papers and fictional writings had been stored in his house, but that the the trunk had been moved from there, by order of the widow herself, a decade before. In his 1885 statement Eber D. Howe says that D. P. Hurlbut "learned Mrs. Spaulding was in Mass and went there," but Howe neglects to tell from whom Hurlbut learned this information. If D. P. knew that the widow was living in Monson, Massachusetts before he went to see Mr. Sabine, I can only wonder why Hurlbut even bothered to stop and consult with him; he might have just as easily saved that interview for his return trip. At any rate, D. P. Hurlbut, once he realized the Spalding writings had been moved out of Mr. Sabine's keeping, took the oportunity to cajole Sabine into writing a letter to his sister, requesting her to loan the late author's scribblings to the investigator from Ohio. Without that personal advisory from her brother, it is unlikely that the widow would have given up those old papers to a stranger -- even if, as her foster daughter says, he "spent a day at my house," engaging in ingratiating chitchat with the two very distrustful ladies. The irony of the whole affair is that Solomon Spalding's writings were not with the widow in far off Monson, Massachusetts, but were, all the while, in the nearby county of Otsego. It is highly unlikely, however, that Hurlbut was aware of this fact, as he proceeded on his journey from Syracuse, through Utica, past Otsego and Albany, to Massachusetts.

For all of these reasons I am unconvinced that D. P. Hurlbut was certain of the location of Spalding's manuscripts when he left the Conneaut country, on his way east. Nor do I think that he just happened to stop by the McKinstry home in Monson, Massachusetts, for a friendly "visit." Given the primitive state of transportation in those days, the lateness of the season, and the expense involved in his going to Monson, I do not believe that Hurlbut would have undertaken the trip, just to pass some pleasantries with Spalding's widow. He was acting like a man with a driving passion, and that passion was to locate and read the fictional creations of Solomon Spalding, to see if they were indeed the source from which the Book of Mormon was derived. Having served for several weeks as a Mormon missionary, D. P. Hurlbut was well aware of the characters, plot, and language of the Mormon scriptures -- it would have taken little more than a couple of moments' glance at Spalding's papers for Hurlbut to have ascertained whether or not he had found his literary "holy grail."

If, on the other hand, as some Mormon defenders have suggested, Hurlbut went to all this 1833 travel and trouble just to destroy evidence, he certainly did a very poor job of that nefarious work. The one Solomon Spalding story that he eventually turned over to E. D. Howe was precisely the sort of non-Nephite stuff he should have been destroying, if he wished to maintain the concocted illusion that the dead writer had produced something very much like the Book of Mormon. This is why I maintain that Hurlbut's trip east was indeed an investigative quest, and not simply a way in which to enhance the credibility of a contrived explanation for the Saints' holy writ.


Manuscript, Manuscript, Who's Got the Manuscript?

When last we looked in upon our pernicious ex-Mormon protagonist, he was on his way from Monson, Massachusetts to Hartwick, New York, to obtain the loan of Solomon Spalding's "Manuscript Found," along with any other useful items he might turn up, in support of the claims for the author being the originator of the Book of Mormon. Having walked the silent streets of Hartwick hamlet myself, I can only hope that Hurlbut was able to find a place to sleep and eat before he caught a farmer's wagon ride back to the stage road. Once he had shown his authorization from Spalding's widow, her relatives, the Clarks, probably let their unexpected guest paw through the dead man's trunk to his heart's content. So, once he had the "old hair trunk" open and its contents at his disposal, up in the Clarks' unheated attic, what did he find inside?

Hold that question in mind, while I fast-forward the story to a few weeks later, when E. D. Howe realized that D. P. Hurlbut had not handed over the celebrated "Manuscript Found." Perhaps the better question would be, why didn't Mr. Howe, or Mr. Sabine, or the Geauga Co. anti-Mormons, or Hurlbut's lawyer, or Spalding's widow, or anybody else contact the Clark family in Hartwick and ask what they had allowed D. P. Hurlbut to walk away with in his satchel, from his scroungings about in that dark cold attic? Don't expect to find any more of an answer to this question than to my previous query. There is no answer, just an omenious silence meets our 170 years-too-late questioning. According to the Rev. Clark Braden, his fellow Disciples of Christ minister, the Rev. J. E. Gaston, wrote to Spalding's widow in 1842 and received this reply: "shortly after Hurlbut left Munson [sic] with the order from her to get the manuscript of the 'Manuscript Found' from the trunk at Mr. Clark's at Hartwicke, N. Y., she received a letter from Hurlbut, in which he told her that he had obtained from the trunk what he had come for, the manuscript of 'Manuscript Found,' and that when he had taken it to the parties that sent him, and it had been used for the purpose for which they wanted it, that is published to expose the plagiarism of the Book of Mormon from it, he would return it to her."

That second-hand hearsay is perhaps as close as any modern investigator will ever get to an explanation of what happen in the Clark garret in November 1833. The first part of the lady's reply resonates with what Mr. Hurlbut himself had published in the Wayne Sentinel of Dec. 20, 1833 -- that he had "succeeded in accomplishing the object of his mission" to retrieve the "Manuscript Found," and that "an authentic history of the whole affair" would "shortly be given to the public." According to the reported reply of the widow herself, this information came to her as "a letter from Hurlbut" himself, written "shortly after" she last saw him. My chronology places D. P. Hurlbut in Monson on or about Nov. 22, 1833; at the Clark residence on or about Nov. 25th; back in the Palmyra area on or about Nov. 27th; and all the way back to Kirtland on or about Dec. 18th. If he wrote to the widow "shortly after" he left her in Monson, that might mean anywhere from a week to three or four weeks -- but I suppose it to mean that he sent her a positive sounding letter at about the same time he wrote up his positive sounding press release in Palmyra, that is, perhaps about the 13th of December. Still following Rev. Gaston's report, this date fits the scenario of being before "he had taken it ["Manuscript Found"] to the parties that sent him. Beyond this tiny window into Hurlbut's accomplishments at Hartwick, all else is darkness. Mr. Jerome Clark is not known to have ever specified what he allowed D. P. Hurlbut to take with him and Hurlbut is not known to have left a receipt with the Clarks.

Matthew, in writing his admittedly good LDS apologetics, of course blissfully bypasses all of this confusing historical stuff and cuts directly to the chase: "But when Hurlbut made a closer examination of the Spaulding manuscript he did not find the parallels to the Book of Mormon that he had hoped for and so he asserted that there must have been another manuscript written by Spaulding that was now 'lost.'" Excuse me for a moment, while I remedy my nausea over this asinine explanation.

Thank you for your patience, I'm back and I feel better now. Let's continue to play out our parts in this theatre of the absurd. Perhaps we can call the performance "Following after Matthew," since the title "Waiting for Godot" has already been taken. Following after Bro. Matthew, we come to his footnote to his previous explanation of things: "Either Hurlbut or Howe wrote a letter to Spaulding's widow informing her that her husband's manuscript "did not read as they expected" and they therefore decided against publishing it." Don't bother asking for his citation, we can all easily guess that Matthew is still riding happily along on Ben Winchester's joy-ride at this point in the narrative.

"But hold on thar!" I hear my LDS comrades crying out, "Eber D. Howe says the same thing! and so does that widdow woman!" Howe's account ("The trunk... was subsequently examined, and found to contain only a single M. S. book, in Spalding's hand-writing... purporting to have been translated from the Latin") I can partially excuse, as being nothing more than his repetition of what trustworthy (?) D. P. Hurlbut told him. The widow's reported statement ("I received a letter stating it did not read as they expected, and they should not print it.") is a little more problematic. If Spalding's widow informed Rev. Gaston in 1842, that D. P. Hurlbut "told her that he had obtained from the trunk what he had come for, the manuscript of 'Manuscript Found,'" then why did she tell Elder Jesse Haven that "it did not read as they expected?" Perhaps a hint at an answer may be found in Elder Alexander Badlam suffix to the 1839 Haven report, that Ben Winchester helpfully reproduces: "I do not say that the above Questions and Answers were given in the form that I have written them..." Apparently Elder Badlam was quoting Elder Haven at this point, and was trying to cover both their heads, in case the widow should ever see the published report of Brigham Young's cousin, 2 and object to how he had worded her replies to his questions. In other words, she may have told Elder Haven that she received two letters, but he only elected to mention the second communication from D. P. Hurlbut. 3

As for D. P. Hurlbut (who knew well the story of the Book of Mormon) never taking the trouble to look at the content of the manuscript he obtained from Mr. Jerome Clark, that is preposterous. Imagine Mr. Clark, opening the "old hair trunk" and asking D. P. Hurlbut just what the manuscript he was seeking looked like or contained. "Oh, that doesn't matter," says Hurlbut in this imaginary farce, "I'll just take the top one on the stack and read it once I get back to Ohio." So Mr. Clark says, "There's one here called 'The Frogs of Wyndham,' will that one do?"

It is too painful for me to contemplate the continuation of such a scene. Even if there was only a single scrap of paper, sitting on the bottom of an otherwise empty trunk, we can all bet the farm on the fact that D. P. Hurlbut would have scrutinized every line written on it, before he conceded he did not have something worth bringing back to the anti-Mormons in Ohio. It may serve Matthew's purposes to believe that Hurlbut never took a look-see -- just as it may have served the trusty (?) D. P. Hurlbut's inscrutable purposes, at some point later on, to say the same thing -- but I declare, "that dog won't hunt a flea!" 4

But the son of the Spalding's foster daughter, Dr. John A. McKinstry, sums up the absurdity better than I can, in a Sept. 1, 1879 letter to Robert Patterson, jr., of Pittsburgh:


"Hurlbut's statement does not alter my belief that he did have 'Manuscript Found' in his possession and disposed of it to his own advantage.... His statement that he did not know the contents of the paper he passed over to Mr. Howe seems to me perfectly ridiculous. I can hardly realize that a man interested in the publication of a work, and having in his possession what he must have supposed under the circumstances was of the greatest importance to the value of that work, could have manifested so little interest -- or at least curiosity -- as not to have given it at least a passing notice. Neither can I believe that any man who has the least claim to common sense would accept blindly, without even looking at its contents, a worthless package in place of a valuable MS.... I hardly know what further can be done to unravel the mystery. If Hurlbut disposed of the MS, he of course did not do it openly"

John's mother, Mrs. Matilda Spalding McKinstry, gives her explanation for what probably happened at the Clark house, in a statement dated Aug. 31, 1880:


"Hurlbut may have received in addition to "Manuscript Found" some fragment. tied up with the bundle, which fragment he passed over to Mr. Howe, retaining the one of real importance for personal use... I feel that any communication from my self to 'Mr H.' -- would be of no avail. If he stole the papers, he would not criminate himself by owning it."

If our good apologist Matthew is feeling a bit shaky in his overzealous reliance upon Ben Winchester for historical information, I'll do him a small favor and provide another, corraborative source -- nothing less than the dependable (?) Testimony of D. P. Hurlbut himself. On Aug. 19, 1879, he said:


"I visited Mrs. Matilda (Spaulding) Davison at Monson, Mass., in 1834, and... received from her a manuscript of her husband's, which I did not read, but brought home with me, and immediately gave it to Mr. E. D. Howe, of Painesville, Ohio... I do not know whether or not the document I received from Mrs. Davison was Spaulding's "Manuscript Found," as I never read it entire, and it convinced me that it was not the Spaulding manuscript... I never received any other manuscript of Spaulding's from Mrs. Davison... I did not destroy the manuscript nor dispose of it to Joe Smith, or to any other person."

Well, I suppose that ends the controversy -- we can all go home now that we have such reliable testimony before our eyes!

Oh, but wait one moment -- while I'm giving away the ultimate testimony against that nasty old "myth of the Manucript Found," I might as well double its destructive power. Here's Hurlbut's 1881 reaffirmation of his prior testimony: "I went... to Munson, Hampden Co., Mass., where I found Mrs. Davison... I obtained a manuscript, supposing it to be... 'The Manuscript Found,' which was reported to he the foundation of the Book of Mormon. I did not examine the manuscript until I got home, when, upon examination, I found it to contain nothing of the kind." Of all the things D. P. Hurlbut might have testified to, it seems he was especially keen on absolving himself from ever having laid eyes upon a Spalding manuscript story that resembled the narrative given in the Book of Mormon. 5 As the Prince of Denmark once said, "The lady doth protest too much, methinks."


The Hurlbut-Smith Brawl

Our friend Matthew quietly passes over the old Mormon claim that said D. P. Hurlbut tried to assassinate Joseph Smith, Jr., at Kirtland during the last days of 1833. No doubt this is nasty stuff to contemplate, but I wonder if his avoiding the subject marks a new turn in 21st century LDS apologetics?

Although past Mormon writings on the Kirtland era generally make mention of D. P. Hurlbut's 1833 threat to harm Smith, LDS writers who were personally involved during that period in Kirtland provide us with very little information on the alleged assassination threat. Benjamin Winchester is strangely economical with explanations in his account: "he [Hurlbut, returning from his travels] went to Kirtland, Ohio, and stopped in that region of country, as he said, to learn other particulars, and finish writing his book. Mr. H. had not been there long, before he threatened to murder Joseph Smith, Jun."

Ben Winchester's relatives, the Elders Joseph and Benjamin Johnson, are not much more helpful in supplying the missing pieces of this story. Joseph says: "Hurlbut went east and was absent some two or three months -- and on his return publicly declared that he could not obtain it... the Manuscript Found, and the only conclusion that can be reasonable is, that finding it would spoil his case and ruin his purposes, that manuscript was destroyed or suppressed." Benjamin adds: "[Hurlbut] soon collected around him the congregations of our enemies, and in pert and pompous style told them the tale he had concocted of the 'Manuscript Found'... Soon afterward by them all he was most cordially despised."

George A. Smith arrived in Kirtland about the time that D. P. Hurlbut was giving the Mormons so much trouble, but his recollections supply only the sketchiest of additional information. He says: "[D. P. Hurlbut] went to work and got up the Spaulding story -- that famous yarn about the 'Manuscript Found.' When about to publish this lying fabrication, in several of his exciting speeches having threatened the life of Joseph Smith, he was required to... keep the peace." George later expanded his reminiscence: "Hurlburt was the author of... 'The Spaulding story,' a book which he intended to publish; and in delivering lectures he had said he would wash his hands in Joseph Smith's blood. He was taken before the court and required to give bonds to keep the peace towards all men, and especially towards Joseph Smith."

Given the serious nature of the charge that Apostle George A. Smith makes against Hurlbut ("in delivering lectures he had said he would wash his hands in Joseph Smith's blood"), it seems strange to me that Mormon historians have never taken the trouble to supply some details for this obscure episode in Kirtland history. Perhaps Matthew B. Brown will one day turn historical researcher, update the Kirtland investigations of Max Parkin and Milton V. Backman, and present the full story of this murderous incident for our edification. 6

__________
1 The editor of the RLDS Saints' Herald makes an interesting claim in the Mar. 21, 1885 issue: "Mr. Jerome Clark stated that when he attempted to honor the order for the delivery of the 'Manuscript Found,' brought to him from Mrs. Davison, formerly Mrs. Spaulding, by Mr. Sabine, and P. Hurlbut, he found but one; and that one he gave to Mr. Hurlbut when Mr. Sabine was present." The source for this remarkable assertion is left unstated, and, as it is encountered nowhere else in Mormon apologetics, it must have been an extremely obscure one. It is possible that Jerome Clark, prior to his death in 1850, provided some hitherto uncited recollection of Hurlbut's visit to his Hartwick home in 1833. An extensive search of the Otsego Co. and Onondaga Co. newspapers has not, so far, turned up such an account from him. According to Ellen E. Dickinson, "Joseph Sabine, Esq., of Syracuse, son of William H. Sabine, now deceased, twice wrote his recollections for New York newspapers of the family traditions in relation to Mr. Spaulding, his romance, its being in his father's house, and of Joe Smith's residence at Onondaga Valley." Unfortunately the extant files of early Syracuse newspapers are very sparse and contain no mention of Joseph Sabine's articles. The first known newspaper article on the Sabines of Onondaga was published by the Syracuse Post-Standard on Apr. 25, 1925. That article contains the following botched story: "Sidney Rigdon was at Conneaut when Spaulding was writing his Manuscript Found." He was working in the printing shop in Pittsburgh when the manuscript was there... In 1834 D. P. Hurlburt went to the home of Spaulding's widow, then remarried, and obtained the manuscript by presenting a letter from Squire Sabine and saying he wished to compare it with the Mormon Bible to determine whether they were the same." This article and similiar accounts in 20th century Syracuse paper contain no mention of William H. Sabine being present when Jerome Clark handed over Spalding's writings to D. P. Hurlbut. Jerome Clark's son, George Clark, supplies some very skimpy information in his 1880-81 letters, but nothing about Hurlbut coming to his father's house in 1833. Finally, in her 1884 book, Ellen E. Dickinson says "Lieutenant Gunnison, in his 'History of Mormonism,' says that Clark either by accident or design retained a part of the manuscript." Gunnison said no such thing; so we can only wonder where Mr. Dickinson came up with this historical oddity.

2 See my on-line reply to the assertions of Robert and Rosemary Brown for a thorough documention of Elder Jesse Haven's "secret mission" interview with Spalding's widow during the fall of 1839. Elder Haven was Brigham Young's first cousin and was at that time working as a missionary for the LDS Church, under (President of the Twelve) Brigham Young's ultimate authority and direction. I believe, however, that it was Parley P. Pratt who supervised the planning and execution of Haven's deceptive 1839 interview with the widow.

3 It is unlikely that Eber D. Howe was the one who informed Spalding's widow that they would not be printing her husband's manuscript. In his 1879 reply to Robert Patterson, jr.'s question, "Did you inform Mrs. Davison...?" Eber D. Howe replied, "Never any correspondence with Mrs. Davison." All indications are that Mr. Howe consciously avoided contacting and conversing with Mrs. Davison; had he contacted her, he might have had much more to say about the Spaldings' experiences writing up the final pages of his 1834 book. This apathetic behavior on his part is something of a mystery, for he told Joseph Smith, jr.'s father-in-law, in Feb., 1834, that his "design" in getting ready to publish his book, was to research and "present facts, and those well authenticated, and beyond dispute," hopefully including relevent testimony "authenticated before a magistrate." Robert Patterson, jr. expressed his dismay over E. D. Howe's reticence to pursue leads in the Spalding affair in these words: "One thing that is inexplicable... is Mr. E. D. Howe's seeming indifference in so important a part of his case as the absolute proof of the plagarism. Why should he have rested satisfied with Hurlbut's statement, without any attempt by correspondence with Mrs. Davison or Mr. Clarke to discover where the real 'Manuscript Found' could be?... As this plagarism was the pivotal point on which Howe's demonstration of fraud, even to the Mormons themselves, turned -- why was he at the time so indifferent to it?" Like Mr. Patterson, I can only wonder about Howe's reticence to pursue leads in the Spalding affair. Did this come up as an item of discussion, when Joseph and Emma Smith called at the Howe residence in Painesville, on Dec. 2, 1835 (a year after Eber's book was published)? Smith says in his private journal: "we arrived at Painsvill[e] we called at Sister Harriet How[e']s, and left my wife and family to visit her while we rode into Town to do some business, returned... and dined with Sister How[e], and returned home." Then again, perhaps Eber D. Howe left his sister Harriet in the house with his wife Sophia that afternoon, and found some other, more comfortable place at which to eat his dinner. Both Harriet and Sophia were Mormons -- see Smith's personal journal (entry for Apr. 30, 1834) to see how much cash Sophia donated to the "Zion's Camp" expedition. The ladies were also investors in the Kirtland Bank (Harriet bought 20 shares) and other LDS causes. Arthur B. Deming said that he "inquired" of Mr. Howe, "whether the Mormons did not try to prevent the publication of 'Mormonism Unveiled.'" According to Deming, Mr. Howe "said W. W. Phelps, who formerly published an anti-Masonic paper at Canandaigua, N. Y., called, but that he looked at him pretty sharp and he did not stay long."

4 Dale W Adams provides some relief from the usual and predictable Mormon "party line" when he promotes this slightly revisionist view of Hurlbut's recovery of Spalding's writings: "In a letter prepared for Ellen Dickinson on January 10, 1881, Hurlbut claimed he did not read the manuscript he found in Hartwick until he returned to Kirtland (Dickinson, p. 245). This conflicts somewhat with the information that Hurlbut gave directly to Dickinson during her earlier interview with him at his home in Gibsonburg, Ohio on November 13, 1880. She quotes him as saying that he 'peeped into it (the manuscript) here and there and... thought it was all nonsense... but I just gave it to Howe because it was of no account' (Dickinson, p. 67). Both descriptions of Hurlbut's cavalier treatment of the manuscript after his passionate quest for it undoubtedly shades the truth. Without doubt, Hurlbut sat down immediately upon obtaining the manuscript and read it, He must have been crushed when he saw that Spalding's tale had scant resemblance to the Book of Mormon and also realized that it would not support the boasts and promises made to his financial backers." -- If it can be shown that amateur historian Adams has his facts down correctly, then we would all have to re-think the provenance of Hurlbut's reportedly telling Spalding's widow "that he had obtained from the trunk what he had come for, the manuscript of 'Manuscript Found,' and that when... published to expose the plagiarism of the Book of Mormon from it, he would return it," and his saying (in his press release) that "he has succeeded in accomplishing the object of his mission, and that an authentic history of the whole affair will shortly be given to the public." As late as Feb. 7, 1834 (four days after E. D. Howe wrote to Father Isaac Hale telling him "I have taken all the letters and documents from Mr. Hurlbut, with a view to their publication") the northern Ohio anti-Mormon "committee" was still advertising that "the Committee employed D. P. Hurlbut to ascertain the real origin of the Book of Mormon, and to examine the validity of Joseph Smith's claims to the character of a Prophet. The result of this enquiry so far as it has proceeded has been partially laid before the public in this vicinity by Mr. Hurlbut -- and the Committee are now making arrangements for the Publication and extensive circulation of a work which will prove the 'Book, of Mormon' to be a work of fiction and imagination, and written more than twenty years ago, in Salem, Ashtabula County, Ohio, by Solomon Spalding, Esq." Hurlbut was obviously lying to somebody, but was that lying done to the "committee" (that the positive "result" of his research was "partially laid before the public") or to Mr. Howe (that Spalding's trunk contained "only a single M. S. book... purporting to have been translated from the Latin")?

5 What D. P. Hurlbut, Benjamin Winchester, and Matthew B. Brown conveniently omit from their reconstruction of the past, is what happened just after Hurlbut returned to Kirtland, Ohio from Palmyra New York, during the second half of December, 1833. According to Dale W Adams reporting, "Hurlbut returned to Kirtland about the middle of December and began attacking Joseph Smith. Understandably, Smith and his supporters lashed back... Hurlbut reacted violently. The mud slinging on both sides quickly escalated until Hurlbut threatened Joseph Smith." This reconstruction of events appears supported by what what Benjamin F. Norris, a non-Mormon, wrote his brother from Painesville, on Jan. 6, 1834: "[Joseph] Smith has sworn the peace against a man named Hurbert who has ben engaged for about three months in [tracing] the origin of the book of mormon. He [has] returned and was [jailed] yesterday... His work will be published in a few weeks giving the true origin of the book of Mormon." More detail concerning Hurbut's activities following his return to Ohio from New York is supplied by two high ranking Mormons. Orson Hyde wrote from the Kirtland Leaders to the Saints in Missouri, on Jan. 9, 1834: "Doctor P. Hurlbut an apostate elder from this church, has been to the state of New York, and gathered up all the ridiculous stories that could be invented, and some affidavits respecting the character of Joseph, and the Smith family, and exhibited them to numerous congregations in Chagrin, Kirtland, Mentor, and Painesville, and fired the minds of the people with much indignation, against Joseph and the church. Hurlbut also made many harsh threats, &c., that he would take the life of Joseph, if he could not destroy Mormonism without." Oliver Cowdery wrote from Kirtland to his brother Lyman, on Jan. 13, 1834: "Hurlbut is now in this country pedling slanders... If you were acquainted with his character, as represented to me, you would never regret that you did not open a communication with him." At some point, not long after his return, D. P. Hurlbut's ego outstripped his better judgment and he reportedly made serious threats against Joseph Smith and his faithful followers. Exactly what those threats consisted of and how literal he was in making them will probably never be known. Subsequent Mormon testimony would establish, at least to the Geauga County Court's satisfaction, that he had threatened the life of the Mormon prophet. The Justice of the Peace for Kirtland Township in 1833 was John C. Dowen, a Gentile who had a reputation for not persecuting the Saints; in return they supported him in his office. In 1885 Dowen said: "I heard Dr. P. Hurlbut... deliver his first lecture in the Methodist Church in Kirtland, Ohio, on the origin of the Book of Mormon. He said he had been in New York and Pennsylvania and had obtained a copy of Spaulding's "Manuscript Found." He read selection[s] from it, then the same from the Book of Mormon. He said the historical part of it was the same as Spaulding's 'Manuscript Found... I read all of his manuscript [Hurlbut's research findings], including Spaulding's "Manuscript Found," and compared it with the Book of Mormon; the historical part of which is the same as Spaulding's "Manuscript Found"... Hurlbut said he would "kill" Jo Smith. He meant he would kill Mormonism. The Mormons urged me to issue a writ against him. I did." Dowen's statement agrees with other testimony from the Kirtland region, saying essentially the same thing, that D. P. Hurlbut obtained a copy of Spaulding's "Manuscript Found" and purportedly exhibited this document in lectures he gave in and around Kirtland, following his return from New York. Among the deponents giving corroborative testimony to this chain of events are James A. Briggs, William R. Hine, Jacob Sherman, and Charles Grover. Additional testimony, from various residents of the Kirtland area, was presented by the Rev. Clark Braden in 1891. The weight of this testimony led Braden's opponent, Edmund L. Kelley, Presiding Bishop of the RLDS Church, to admit that D. P. Hurlbut was at least displaying something that might have looked like the "Manuscript Found" during his lectures at the end of 1833.

6 My own investigations into this obscure chapter in Kirtland history will be laid out presently, in my on-line work-in-progress, "Crisis at Kirtland." My tentative reconstruction of the last days of December, 1833, I can summarize, as follows:

On or about Dec. 15th Hurlbut was in Buffalo, on his way back to Ohio regional newspapers report some heavy snowstorms at this time and there was no doubt ice on Lake Erie, so Hurlbut missed taking a steamboat ride to Fairport and took the sleigh-stage, arriving in Painesville and Mentor about the 16th or 17th. Hurlbut was then evidently still living with the Ezekiel Johnson family on Kirtland Flats, so he probably rested up from his arduous journey there until he was able to meet with the local anti-Mormons. Orris Clapp, Mrs. Corning, Josiah Jones, and his other Campbellite friends met in Mentor for their usual Sunday meetings on Sunday Dec. 22. Some of these people were associated with the anti-Mormon "committee" that hired Hurlbut and he probably spoke with them and scheduled a meeting of the "committee" for a couple of days later, when the men from Willoughby and Painesville could make it to the Corning place in Mentor. Wednesday, Dec. 25, 1833 might have been a convenient day for the meeting described by James A Briggs -- in which Hurlbut displayed both the "Manuscript Found" and the unfinished story now on file at Oberlin. Prior to this meeting with the committee, Hurlbut had ample time to conduct his post-return lectures in Kirtland, Painesville, Willoughby, Mentor, Chardon, etc. The committee members were aware (though perhaps not particularly happy) that D. P. was exhibiting important Spalding documents in these public lectures, and they later advertised that his findings had "been partially laid before the public in this vicinity by Mr. Hurlbut." Whether D. P. ever handed over a single scrap of paper to his financial backers is debatable. If he did, they opted not to publish his findings -- probably he gave them nothing for their money and they had to wait nearly a year in order to see what E. D. Howe was going to print in his promised book. In the meanwhile a brawl between Hurlbut and the Mormon prophet jeopardized everybody's plans. According to James A. Briggs, Hurlbut filed a civil complaint against Joseph Smith, jr. for assault. The most probable time and place for the altercation between D. P. and Smith was on Sunday the 22nd, in the evening, on the flats in the Kirtland school house. I suspect that Hurlbut lectured in the Methodist meeting house at Kirtland on or before the 21st -- but the only "big fish" he drew in was Martin Harris. Probably the Mormons had been instructed to stay away from Hurlbut's lectures and the lecturer decided that the only way he could get their attention was by attending one of their sacrament meetings and speaking there. According to a certain "Mr. Thomas", Mr. Hurlbut "Attended [a] Mormon meeting at the school house. At close Hulburt arose and began telling the audience that B. of M. and S. Spaulding's MSS. were identical. Joe Smith called on God to curse him and told the audience to leave, which they did." -- Perhaps Hurlbut crept silently into the LDS meeting during its "testimony" phase and then stood to address the Mormons, before his unwanted presence was detected. At any rate, I think this was when Joseph Smith, Jr. assaulted Hurlbut. That action by Smith may have been nothing more than a shove, to push the intruder out of the room, but it gave Hurlbut an excuse to get his anti-Mormon testimony heard in a justice court, where he could loudly publicize his research findings to the audience and the press. Hurlbut may have felt that he could not get a complaint successfully processed in Kirtland, so he (or his lawyer, James A. Briggs, who several times spoke of this complaint in various letters and articles he wrote) soon after filed his charges with a Justice of the Peace in nearby Painesville. Smith, in a quick counter-move, decided to bring charges against Hurlbut in Painesville also. Therefore the Mormon leader had Judge Dowen make the arrest warrant for D. P. Hurlbut returnable in that nearby town. Exactly what Hurlbut did or said to give Smith this favorable opportunity remains unknown -- but he may well have answered Smith's conjectured shove with the ominous ejaculation "I'll wash my hands in your blood, when the courts get through with you!" The county court at Chardon retains a re-write of an April 1834 transcript, to which a record of Hurlbut's January pre-trial hearing at Painesville is attached as a preliminary codicil to the main April proceedings at Chardon. The text documenting Dowen's issuing an arrest warrant against Hurlbut may have been recopied as many as three times before it got into the book at Chardon, and thus it is likely that the original "7" in the warrant date of January, 27, 1833 was later mis-copied as a "1" -- changing "January 27" to "January 21" in the court transcript. Whatever explanation may best fit the date in the transcript, Judge Dowen testified that he looked at his original docket book and saw that the date of Smith's complaint against Hurlbut was "January 27, 1833." No record of Hurlbut's complaint against Smith is to be found in the April 1834 Chardon court transcript, leading me to the conclusion that, at some point, the justice court in Painesville dropped the charges against Smith. At the end of 1833 (or beginning of 1834) Joseph Smith, jr. wrote to Bishop N. K. Whitney, saying that D. P. was trying to instigate a law suit against the Mormon leadership (against Hyrum Smith in particular) in order to recover monetary damages from their United Firm, but Smith mentions no assault charges pending against him at the time -- possibly, by the time he wrote to Bishop Whitney, those first charges had been dropped. Perhaps the Painesville judge did not even make out a warrant against Smith, but instead promised to give Hurlbut's complaint further consideration, once more evidence was presented. In the meanwhile, Judge Dowen did issue an arrest warrant for Hurlbut -- and the anti-Mormon fled the county and its armed constables. I think that about Dec. 28th or 29th D. P. realized that his personal welfare was too compromised for him to hand over anything to the anti-Mormon committee. It was time for him to skip town. Prior to his flight from Geauga Co. he had already showed at least part of his research findings to the anti-Mormon committee meeting at Mentor. Why did he not entrust all of papers to that committee? One possible answer is that the relationship between him and the committee was deteriorating and he stood to gain nothing more in the way of cash or assistance from them at that point. Perhaps D. P. anticipated the erosion of their confidence and good will before he ever reached Kirtland. His activities upon reaching Ohio do not appear to have been fully congruent with his earlier, ostensible plan of action on behalf of the committee. On his return to Ohio from New York, D. P. Hurlbut evidently bypassed Conneaut. Why did he not stop there, show his findings to Spalding's old neighbors and get the handwriting on the papers he retried from Hartwick verified then and there? Instead, D. P. seems to have waited until after he fled the constables of Geauga Co., to carry one small Spalding manuscript back to the Conneaut people for their certification of the author's handwriting. If this is indeed the correct sequence of events, it means that Mr. Hurlbut was exhibiting the purported "Manuscript Found" in and around Kirtland without certificationM that the handwriting was Spalding's. This may be a significant deed (or misdeed) on his part and merits closer investigation. My chronology places D. P. Hurlbut in Salem (soon to be renamed Conneaut) on December 31, 1833, when he got the penmanship on what we now call the "Oberlin manuscript" certified by some of Spalding's old friends, including Aaron Wright. I next place him in Painesville, where he was arrested on Jan. 3 or 4, 1834. The question is, Where was D. P. between Dec. 31st and Jan. 4th? So long as he remained in Ashtabula Co. consulting with the Conneaut witnesses, D. P. probably counted upon the cooperation of Sheriff Zaphna Lake (son of Conneaut witness Henry Lake) to warn him of any Geauga constables carrying arrest warrants; but on or about Jan. 1st Zaphna's term in office expired and Hurlbut was no longer safe from arrest at Conneaut. My surmise is that he next went to the nearby Kelloggsville-Kingsville area and stayed there with the Wheeler Woodbury family. Hurlbut had plans to marry Judge Woodbury's daughter, Maria, but the judge's good sense did not allow him to accept D. P. into the family until April 27th, 1834, after all his legal problems in Geauga Co. were cleared up. I believe that it was Judge Wheeler Woodbury who talked Hurlbut into returning to Geauga Co., where he faced an inevitable arrest. D. P. was careful that his arrest occurred in Painesville -- but the Kirtland constable who nabbed him got permission from the court to take his prisoner back to Kirtland, pending a rescheduled appearance before the Judge in Painesville. If there was a time and place when it would have been greatly to D. P. Hurlbut's bodily and financial benefit to come to an accommodation with LDS President Joseph Smith, jr., it was then and there. Although the two men continued to be bitter enemies, Hurlbut is not known to have ever lectured against the Mormons following his arrest. No witnesses clearly testify to his displaying the purported "Manuscript Found" after his arrest. My guess is that a few of D. P.'s important papers were then in the keeping of John C. Dowen -- and that one those documents in particular never made it from Dowen's Kirtland residence into the possession of the anti-Mormon committee, nor into the book later published by Eber D. Howe.