Transcriber's Comments:
Part Three
---
Intro. Part 1 Part 2 Part 3 Part 4 Part 5 Part 6
---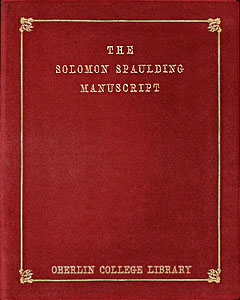 <! IMG SRC="http://www.solomonspalding.com/docs/ObrMScov.jpg" BORDER=1 width=240 height=300>

The Oberlin Spalding Manuscript
(First typescripted by Broadhurst, 1981)






Now, The Important Part

If a someone is mistaken, muddled, or just plain wrong in one part of their argument, the listener has reason to suspect that they may be wrong in something else. That's just an exercise of common sense. It takes no genius to postulate that the Browns may be wrong at some point in their thick book, They Lie in Wait to Deceive II, but where, why, and to what effect? The place I look to find a budget of errors is in the Browns' Chapter Six. President Sidney Rigdon might have said a "budget of lies, but I'll give Mr. and Mrs. Brown the benefit of the doubt until this examination has proceeded a bit farther. I have been called a "Spalding Theory Advocate," but more accurately, I think, I advocate chopping out the deadwood and get to the truth, let the chips fall where they may. So then, where to begin?

On page 217 of their Chapter Six, Robert and Rosemary Brown say: "Solomon Spaulding wrote a romance between 1809-1812 about the Indians of Kentucky and Ohio. He died in 1816. His widow and daughter picked up all their belongings and went to visit Mrs. Spaulding's relatives. Spaulding's manuscript never was on display to the public after he died until it reached its final resting place at Oberlin College in Oberlin, Ohio." How accurate is this summary they provide their readers? I've already pointed out that the Spalding story first published by the RLDS Church in 1885 (and reproduced on pages 293-428 of the Brown's book) is largely unconcerned with Indians -- it tells mostly about "those people who far exceeded the present Indians in works of art and ingenuity... great and powerful nations, considerably civilized..." These are not the Aztecs, but a people whose "complexion it was bordering on an olive tho' of a lighter shade." Stand them alongside a few Nephites, and who could tell the difference. But this is a minor matter.

The Browns are correct in saying that Solomon Spalding died in 1816. They are probably more or less correct in saying that his widow "picked up all their belongings and went to visit" her "relatives" not long after his death -- though the purpose of that "visit" to her brother, William Harvey Sabine of Onondaga Hollow, New York, was more to keep body and soul together than renew old family affections. But why are the Browns so careful to say that Mrs. Spalding and her youngster (an adopted girl or foster child, not her own daughter, by the bye) "picked up all their belongings?" Well, as we shall see, the Browns are not very comfortable with the thought of there having been any stray Solomon Spalding writings left lying forgotten on some shelf in the area of Pittsburgh as early as 1817. According to the early Mormon, Elder William Small, a former publisher in Pittsburgh, the Rev. Robert Patterson, Sr., told him: "the Solomon Spaulding manuscript was brought to him [Patterson] by the widow of Solomon Spaulding to be published, and that she offered to give him half the profits for his pay, if he would publish it; but after it had laid there for some time, and after he had due time to consider it, he determined not to publish it. She then came and received the manuscript from his hands, and took it away." If that is what really happened, then we can know that at least one item from "all their belongings" left Pittsburgh with the Widow Spalding; what rubbish she may left behind, intentionally or otherwise, is left unaccounted for, of course.


Manuscript? What Manuscript?

For the life of me, I cannot understand what the Browns mean to say in their next, emboldened statement, to wit: "Spaulding's manuscript never was on display to the public after he died until it reached its final resting place at Oberlin College in Oberlin, Ohio." There is much fat to be chewed upon here, but far too little lean. To begin with, what manuscript are they speaking of? Is this the manuscript to one of the children's stories Matilda Spalding McKinstry says that the old man used to write for her reading pleasure? But no, this is not "The Frogs of Wyndham," for the Browns tell me to look for its final repose in Oberlin, Ohio and I find no such childrens stories there. Perhaps I might look for this previously never-displayed piece of Spaldingania amongst the "leaves of his sermons" also once in the possession of Matilda Spalding McKinstry and reported to Elder Edmund L. Kelley. But no again, for the Browns tell me they are talking about "a romance" written "between 1809-1812." No matter how much my Latter Day Saint wit may be tempted to call the antique productions of Protestant ministers nothing but "romance," I cannot reasonably credit the ex-clergyman with writing sermons as late as 1809.

If I am to look for a Solomon Spalding "romance," then, what might that be? Could I consider the lengthy and imaginative manuscript tale cataloged under his name in the Library of Congress -- the strange but highly religious "Romance of Celes?" No, I think not, for it is not in his handwriting and, to my knowledge, was never in Oberlin, Ohio, beyond just a single page now resting in the James H. Fairchild papers there. I must continue my searching. What about the "Lost Tribes" Solomon Spalding manuscript reported by the son of Minor Deming, that valiant Hancock county Sheriff so trusted by the Nauvoo Mormons back in 1845 or so? Sheriff Deming's son passes on an account of this manuscript having been written by Spalding "probably while he preached in Middletown, Vermont." But again, no -- for this lost tribes tale was reportedly available for viewing in the home of Middletown's "Town Clerk" as late as 1871; and besides that, I cannot find it in the Oberlin College Library.

Mormon writer Elias L. T. Harrison once spilled a considerable quantity of printer's ink in telling us how the "ten lost tribes" story attributed to Spalding pen by so many testifiers could not possibly have been the basis for the Book of Mormon -- which speaks so little of those same tribes. Elder Harrison makes a good point, but I cannot locate the Rev. Spaldings's "lost tribes" story, search as I may. I think that the grandson of the Rev. Ethan Smith was trying to provide a clue to the unraveling of this mystery when he said "Rev. Dr. Smith wrote a work... Taking as its foundation the migration of the lost tribes of Israel to the western continent... Solomon Spaulding... became interested in his theories regarding the settlement of America, and in return Dr. Smith... granted him a perusal of his unpublished book. Spaulding was deeply impressed... Taking the latter's views as expressed in his book Spaulding some years later wrote his famous 'Manuscript Found'..." So, perhaps I should look to see whether Solomon Spalding's purported "lost tribes" story was sent off to Ethan Smith and secreted by him among his belongings when he resided in Middletown (oops, I mean Poultney, a couple of miles to the west) Vermont.

Having exhausted my search for all of these other reported Spalding manuscripts, I am compelled to narrow down my search to whatever it is at Oberlin College the Browns are talking about. But is the document on file there the "Manuscript Found" which Elder Harrison mentally compared to the Book of Mormon and found wanting? I'll digress for a moment back into the realm of the ten lost tribes and see what a fellow by the name of James A. Briggs has to say: "Joseph Smith of Lamoni, Ia., has sent me a copy of the "manuscript" found by Mr. L. L. Rice of Honolulu... This is not a copy of the "Manuscript Found" of Solomon Spaulding... At the meeting at Mr. J. Corning's in Mentor, in 1834, I have no doubt we had this very identical "manuscript" now published, among the papers submitted by Dr. Hurlburt. We also had a copy of the "Manuscript Found," that was compared with the Mormon Bible and satisfied the committee that it was the basis of the Mormon Bible. I have said and believed since 1834 that I had seen and examined the original "Manuscript Found" of Solomon Spaulding, out of which Sidney Rigdon got up the Mormon Bible."

But enough of all this searching. The Browns tell me to look only at the Spalding manuscript now at Oberlin, and they tell me it "never was on display to the public after he died until it reached its final resting place" in that College's Library. No matter that the Rev. Clark Braden wrote to the son of one of Brigham Young's wives: "I have six affidavits of persons who were present at lectures of Hurlbut after his return from [his] visit to Mrs. Davidson. They say he held up a MS -- said it was Spaulding's M. S. Found that he obtained from Mrs. Davidson -- that he read from the Book of Mormon showing identity..." No matter that Braden's research assistant subsequently published several of those statements. No matter that the LDS-sanctioned Sheriff of Kirtland testified to the same thing. And no matter that the prestigious International Review once ran an article in which a correspondent reported: "In the winter of 1833-34, a self-constituted committee... met a number of times at... Mentor... At one of the meetings we had before us the original manuscript of the Rev. Solomon Spaulding... It was obtained from... a publisher of Pittsburg... From this work of the Rev. Mr. Spaulding the Mormon Bible was constructed. I do not think there can be any doubt of this. It was the opinion of the committee after comparing the Mormon Bible with the manuscript. The style of composition, the names, etc., were the same." No matter any of the above, for the Browns tell me only to look for a Spalding manuscript never exhibited to the public, after his death, until it came to rest at Oberlin, Ohio. I confess that I cannot find such a manuscript. For even the Spalding holograph on file at Oberlin was available for inspection by many persons (including President Joseph F. Smith of the Mormon Church and his missionary friends, incidentally) months before it was ever shipped off to Oberlin from its discovery place in Hawaii.


Sidney Rigdon? What Sidney Rigdon?

I'd best move on now. I've spent half an hour writing the last few paragraphs and have barely gotten beyond looking at the first three sentences the Browns have to offer their readers in Chapter Six. The next thing they say is: "In 1830, when the Book of Mormon appeared, stories were circulated all around that area that it was similar to the "Manuscript Found" written by Spaulding some 14 years previously." Counting back "14 years" from 1830 leaves me with the year 1816. Are the Browns trying to say here that Solomon Spalding continued working on his stories of the ancient inhabitants of the Americas right up to the time of his death? Several early witnesses say the same, but just a few lines above, the Browns tell me that the particular story they are interested in was composed "between "1809 -1812." Which then is it, 1812 or 1816?

I am very interested in sitting down with the Browns one day and having them relate in detail all the "stories" that were "circulated" in 1830, saying that the Book of Mormon was " similar to the 'Manuscript Found' written by Spaulding..." Now, it may well be true that people like Spalding's widow and her brother William sat down and compared some of her late husband's writings with the Book of Mormon even before D. P. Hurlbut uninvitedly rang the doorbell at the widow's residence in Monson in November 1834, but I can't imagine that it was the Widow Spalding who set such rumors a-flying. What are the Browns talking about here? I think they are relaying their foggy memory, from reading in the old LDS literature, that Sidney Rigdon was accused of writing the Book of Mormon, even as early as 1830. Parley P. Pratt tells us: "Early in 1831, Mr. Rigdon... visited elder J. Smith, Jr., in the state of New-York... and from that time forth, rumor began to circulate, that he (Rigdon) was the author of the Book of Mormon. The Spaulding story never was dreamed of until several years afterward..." Actually, Elder Pratt is just a smidgen late with his date here, the "rumor began to circulate" as early as November 1830, when the first copies of the Book of Mormon became available among Rigdon's associates in Ohio. In an article published Nov. 18, 1830, Warren Isham speaks of Rigdon as "the famous Campbellite leader" just then baptized a Mormon. Isham also speaks of "The Golden Bible" being "Campbellism Improved," implying that Rigdon had a hand in its production. But the first clearly stated charge against Rigdon in this regard was published a few miles away from Kirtland, on Feb. 15, 1831, in which the writer stated: "Rigdon was formerly a disciple of Campbell's and who it is said was sent out to make proselytes, but is probable he thought he should find it more advantageous to operate on his own capital, and therefore wrote, as it is believed, the Book of Mormon..." Benjamin Shattuck (who was an ex-Mormon living near Rigdon) in April 1831, spoke of "Elder Rigdon, who is believed by many to be the author of Mormonism..."

Still, all of these early "rumors" come from Rigdon's home area of Ohio. Elder Pratt seems to imply that the "rumors" began to circulate in the Palmyra area or the Fayette region shortly after Rigdon's first documented visit with the Mormon Smiths. Is there anything available to back up what Pratt says? Probably so, for in 1831 a New York City journalist took a tour of the western part of the state and reported back that:

A few years ago... Old Smith [senior] had... picked up many stories of men getting rich... by digging... and stumbling upon chests of money. The fellow excited the imagination of his few auditors... As yet no fanatical or religious character had been assumed by the Smith's. They exhibited the simple and ordinary desire of getting rich... commenced digging, in the numerous hills... in the town of Manchester.... some person who joined them spoke of a person in Ohio near Painesville, who had... much experience in money digging... After the lapse of some weeks... the famous Ohio man made his appearance... a preacher of almost every religion... His name I believe is Henry Rangdon or Ringdon, or some such word... It was [then] ... the money diggers of Ontario county, by the suggestions of the Ex-Preacher from Ohio, thought of turning their digging concern into a religious plot... It was given out that visions had appeared to Joe Smith -- that a set of golden plates on which was engraved the "Book of Mormon," ... was deposited somewhere in the hill... People laughed... but the Smiths and Rangdon persisted in its truth.... There is no doubt but the ex-parson from Ohio is the author of the book which was recently printed and published in Palmyra and passes for the new Bible.

It appears that Parley was telling us the truth; "from that time forth, rumor began to circulate, that he (Rigdon) was the author of the Book of Mormon." But, as Apostle Pratt goes on to say: "The Spaulding story never was dreamed of until several years afterward..." The Browns have not done their homework and they have given a D-minus book report before the class, I'm afraid.

Still reading from the first page of their Chapter Six, the writers tell us that those objectionable three Gentiles, back in 1977, "expended quite a bit of energy in attempting to prove that Sidney Rigdon stole a 'second' manuscript from a printshop... they have no case at all in claiming that there was a second manuscript. That's good to know; I can now rest easy at night, knowing that there is "no case at all" for President Rigdon ever having stolen such a manuscript. But wait a minute, the Browns do not say that Rigdon was not operating in close proximity to any Spalding manuscripts left lying about in the Pittsburgh area, nor do they say anything about Elder Rigdon having possibly obtained the text from such a manuscript quite honestly and legally -- from his associate, Jonathan Harrison Lambdin, a Pittsburgh printer whom Rigdon pointedly refused to deny knowing and chumming about the town with, perhaps even as early as 1812. On second thought, maybe I cannot yet rest so easily in my Hawaiian bed and in my Latter Day Saint faith as the Browns would have me think.


Finally -- Some Real "Meat"

On page 220 the redoubtable writers (or perhaps just one of them) asks: "This author wonders why the original letters [of E. D. Howe's "eight Conneaut witnesses"] aren't ever shown so we could compare the signatures. Perhaps there aren't any originals." An excellent point, I must say. Three cheers for Elder Brown, for he has finally struck paydirt -- that is, the dirt that pays in sales at Deseret Books. But, I must curb my tongue and get down to brass plates -- err... brass tacks here. Way back in 1878 Joseph F. Smith and Orson Pratt finally summoned up the courage and the cash to go and visit Elder David Whitmer in Richmond, Missouri, and ask to see his original manuscript of the Book of Mormon. The old apostate (or is that "apostle"?) showed them the sacred pages, penned by none other than Oliver Cowdery himself. Then the visitors from Utah asked an embarrassing question -- why weren't the signatures of the witnesses to the divine origin of the "Nephite Record" not in their own handwriting. Honest old David assured his company that he and the others, back in 1829, had indeed affixed their own john-henries to the respective affidavits, but that all he could find with his carefully-guarded original manuscript was Cowdrey's copy of the same. Well, Oliver had at least re-written his own signature on the paper, and one out of eleven may not be bad when it comes to documenting testimony in early Mormon history. But the Utahans had a point to make -- they realized that the pages in David's possession were only Oliver's "printer's copy" of the original "dictated manuscript." David did not realize that there was a second manuscript. He may have even forgotten that there was once a manuscript made for even a different story, at least as different as the lost "Book of Lehi" may have been from the preserved "small plates" of Nephi. Although David didn't know it, there may have then been as many as three separate Book of Mormon manuscripts on earth, one of which told a rather different story from the other two.

The Browns ask -- where are the signed statements of the eight "Conneaut Witnesses?" And I, along with Elders Pratt and Smith, ask -- where are the signed statements of the Book of Mormon witnesses? I might also add, that since even David Whitmer did not know that there were several "Nephite Record" translations to be had, the Browns demonstrate remarkable discernment in knowing of an assurity that there was only one manuscript ever penned by Solomon Spalding. And, as a matter of fact, one of the reasons that I enjoy living in Hawaii these days is that it affords me an opportunity to consult the textual flotsam and jetsam which has washed up here over the course of two centuries. The Oberlin Spalding manuscript was discovered not many miles from where I now sit writing this exposition, back in 1884, as I recall. And with it was found a letter of Solomon's, a legal agreement he drafted, and a statement from the pen of arch-apostate D. P. Hurlbut himself. It may just be worth my time to search through the various archival troves here in the islands and see what became of the papers of Mr. Lewis L. Rice (among which the Oberlin Spalding documents were found). If I can fulfill the Browns' desire to see the original eight statements they speak of, will they then grant me a footnote in the next printing of their book? I think not -- the image of Mark Hofmann still hovers over any new and remarkable document discoveries among us Saints.


Conneaut Witnesses? What Conneaut Witnesses?

Continuing to read along with the Browns on their page 220, they tell us: "D. P. Hurlburt provided eight witnesses to verify that they were familiar with Spaulding's manuscript... You would assume, wouldn't you, that these witnesses were not just casual visitors to Spaulding's house... Surely it would be somebody that lived as a neighbor or at least within a reasonable vicinity of Solomon Spaulding's residence in Conneaut, Ashtabula County..." That's an interesting notion, I think, that in order to function as a reliable witness a person would have to be more than just an occasional visitor to Spalding's "residence in Conneaut." Actually, Solomon Spaulding lived in Conneaut township, not in Conneaut village. In fact, there was no such Conneaut village when he lived in the area in 1809-12. He lived in what was called "Salem" or "New Salem." Years after his residence there a post office was set up for the township and it was called "Conneaut Post Office." Gradually the old name faded away, and in 1834 the village was incorporated as "Conneaut." When we speak of the "Conneaut witnesses" we are speaking of those persons who once resided on or near the banks of Conneaut Creek, a watercourse which meanders through both Erie County Pennsylvania and the adjacent county of Ashtabula, across the Ohio border to the west. Indeed, the Conneaut region might well be extended all the way down to Conneaut Lake, in the county immediately south of Erie. Solomon Spalding's brother John lived down there for about three decades, by the way.

If we set the requirement that any reliable witness to the content of Spalding's writings must have been his near neighbor, there in that Conneaut region, what are we to make of the testimony of his brother, Josiah Spalding? Josiah provides us with a remarkably exact description of the Oberlin manuscript story, told many years after his having read it only once or twice, going far beyond anything else entered into the contemporary literary record, in terms of accuracy and detail, all the way down to the recovery of that document here in Hawaii in 1884. Josiah tells us:

I... give you a sketch of my brother Solomon's life.... In 1795 he married. I went to Cherry Valley and commenced merchandising... He followed... We soon after went into a large speculation in new land in Pennsylvania and Ohio, and after a few years he moved out there with his wife; she never had any children... The war [of 1812]... broke out with England... I went to see my brother and staid with him some time... He began to compose his novel... The author of it he [Solomon] brings from the Old World... I think not a Jew... He was a man of superior learning suited to that day. He went to sea, lost his point of compass, and finally landed on the American shore; I think near the mouth of the Mississippi River. There he reflects most feelingly on what he suffered, his present condition and future prospects; he likewise makes some lengthy remarks on astronomy and philosophy, which I should think would agree in sentiment and style with very ancient writings. He then started and traveled a great distance through a wilderness country inhabited by savages, until he came to a country where the inhabitants were civilized, cultivated their land, and had a regular form of government, which was at war with the savages...

Except for Josiah's mistaking his brother's Delaware River setting for "the mouth of the Mississippi," he gives an excellent summary of the first half of the Oberlin Spalding manuscript. Josiah even thinks that this story was called the "Manuscript Found," or some such name. His account seems to provide perfect fodder for a Mormon "faith-promoting" volume. Why then do the Browns pass over an opportunity to tell us what Josiah remembered after all those years? I can only guess that to do so would put the Browns in the awkward situation of having to admit that even a person who was not a near neighbor (albeit one who visited for many days at a stretch) might be able to recall rather well the contents of Spalding stories he had not seen in forty years. That admission might not be especially helpful to the mission of these Mesa Mormons.

Because the Browns have decided that only Spalding's near neighbors qualify as reliable witnesses, they next set out to convince [I could abbreviate that word as "con." but I won't] us into believing that most of the eight Conneaut witnesses seemingly lived nowhere near old Solomon, back around 1810. On pages 220-21 "this author" (Brother Brown?) tells us, first of all: "This author checked the United States census records for Conneaut, Ashtabula County, Ohio, from 1810 to 1860, and 1880, in an effort to verify the existence of the eight witnesses in Conneaut... This author finds it significant that only two of the eight witnesses can be found in Ashtabula County when they were supposed to be..."

At this point it is useful to take a quick glance at the table the Browns so graciously provide us on page 225 of their book. Notice the entries in the column for 1810, alongside the names of seven of the eight witnesses (Artemus Cunningham they are pleased not to list here; heaven alone knows why not). Even the most ignorant of readers can quickly see that NO CONNEAUT WITNESSES were living anywhere near Solomon Spalding in 1810. The official U. S. Census report for the Sate of Ohio for 1810 clearly shows that fact! Why, good golly, Miss Molly! The jig's up; we Marmons have been bamboozled by them thar deceivin' Gentiles agin! Get me down my shootin' iron! Where in thunderation is that thar lyin' Eber D. Howe anyways!!

But, as Charlie Chan might say, "Not so fast, Number One Son; something is amiss here." Were I to consult my handy dandy official U. S. Census report for the State of Ohio for 1810, I would not find Solomon Spalding's name listed there either -- I would not find anybody from what is now Ashtabula County listed. And why not? Because there never was such a Census report. No, Virginia, there isn't a Santa Claus -- not even a Mormon Kris Kringle down in Mesa. The United States Government did not carry out a census in sparsely populated frontier "New Connecticut" in 1810, as every "Temple Mormon" who has done much genealogical sifting and sorting in the Census records well knows. So, scratch column one, from the table, Bob and Rosie -- and shame on you, and in a volume sold at Deseret Books, too!


Lying in Wait to Deceive?

No, despite the sub-title, I'm not accusing Brother and Sister Brown of telling fibs here. I simply wish to point out that any of us can construct a tabulation and say that it proves something, the "three researchers" of 1977 and myself not excluded. Before we jump to hasty conclusions about who was living near Solomon Spalding back in 1810, let's stop and get our knickers on straight. If there was no census report for that year, is there anything down at the Family History Library that might help us sort things out at this point? How about an index to land sales? How about voters' lists? Or maybe, an index to tax-payers? In fact, there is an index to Ohio tax-payers for 1810 and its is the sort of "census surrogate record" that the "Temple Mormons" consult regularly in their quest for new names to add to their proxy baptism lists. Bob and Rosie, bless their hearts, know all about that sort of thing; they were just a-funnin' us here, right?

Before we go digging through the old tax duplicate microfilms over on the ward microfilm reader (isn't that inter-library loan service from Salt Lake City a wonderful thing!), I might add that I do find a "John N. Miller" on the 1810 Census report for Erie county -- "just across the river" in Pennsylvania, the Browns kindly inform us. But they still place a "NO" in the 1810 box beside his name. If the Browns are unable to read through the Census indices and microfilms at the local Family History Center or the Mesa Temple Library, they may find a picture of the entry on-line at ancestry.com (1810 PA Census, Erie co., roll M252_48, page 126, image 133). Should the Browns wish to reevaluate their decision in placing a "NO" next to the name of John Spalding, for the year 1820, they may wish to take a look at the Cussewago township enumeration in the 1820 Census report for Crawford co., PA -- handily on-line at http://www.alltel.net/~yoset/CCo/census/1820/63A.html. But, oh no!, you say? There's no John Spalding there -- just a "John Spaldin," and that couldn't possibly be the same "John Spalding" living a few miles to the south, in the Sadsbury township enumeration in the 1830 Census report (the one that the Browns did fess up to seeing there): http://www.toolcity.net/~cvahs/1830/cccen3.html

But what shall we do with the names we find in the old records that are just slightly different from the ones we are looking for? If I go searching for "Dale R. Broadhurst," and can only find a "Dale Broadhurst" or a "D. R. Brodhurst" in the 1965 Idaho Falls High School graduation list, do I say "nah, can't be him; must be some other guy!" -- or, should I dig a little more deeply? Why do they Browns neglect to tell us they could only find "John Spaldin" (early Mormon and my ancestral relative, Daniel Tyler, calls the family by that name as well, and he lived right there) in the 1820 Crawford co. list? Well, maybe for the same reason that Apostle John Taylor went on record in 1850, saying that there was no polygamy among the Mormons -- nope, none at all! And, under his breath, he says, "Heh, heh! fooled them Gentile hireling priests, 'cuz we call it the 'patriarchal order of marriage,' not 'polygamy.'" But, maybe I should cut the Browns some slack here; after all, in Henry Hollingworth's 1964 Early Census Records of Crawford County, he writes the "d" in Spaldin as an "a" -- even I had to go look at the microfilm to figure out his mistake there. Quick! How long does it take a Mormon missionary to walk from Solomon Spalding's old property at the north end of Erie county down to Conneaut Lake in the middle of Crawford county: two hours; four hours; all day long? Go ask Elder D. P. Hurlbut; because that's exactly where he served his LDS mission in the spring of 1833 and that's almost certainly where he first met John and Martha Spalding, while on that mission.


Let's Go Lake Fishing

I'm back -- after making a quick trip over to the library to look through Esther W. Powell's 1971 Early Ohio Tax Records. Hmmmm, I wonder if they had that one in the Mesa Temple Genealogical Library back in 1984? Anyway, on page 18 of that volume I find that "Solomon Spaulding" paid his Ohio land taxes in 1811. So far, so good. Somebody named "Aaron Wright" did the same, as did a "Nan. Howard" in Ashtabula (then part of Geauga county). Remember what I said previously about slightly different names? In my searching through the records in Ohio I find that Nahum Howard got written down as "Nathan Howard" on a few occasions. So let's just pencil in Nahum's moniker on our early inhabitants list for the time being. I find no Oliver Smith, John N. Miller, John Spalding, or Henry Lake in the 1811 Ohio tax list, however. Why might that be? Perhaps because Oliver Smith and John L. Miller were then living in adjacent Erie county, and John Spalding was not yet a land-owning taxpayer, in either Ohio or Pennsylvania. Moving on to the page for Geauga co., OH taxpayers in 1814, I find the name of another Conneaut witness: "Artemus Cunningham" of Ashtabula paid his taxes that year. But the Browns, reading that nasty 1977 anti-Mormon book with a bit too much Mormon myopia, substitute the name of Lorin Gould where Cunningham ought to go in their tabulation. I won't even attempt to find Lorin in the records before 1840 (where the Browns finally located him). He was just a kid back then and the Census reports up through 1840 only list the names of the heads of households. Oops! I'm sorry, Bob and Rosie, we didn't want to tell the readers of They Lie in Wait to Deceive that little fact, now did we? Telling that might result in too many embarrassing questions being asked by the readers. I'll keep it under my hat.

So now, who all is missing on the Ohio side of the border back in those years right around 1812? We've yet to find Henry Lake, right? Could it be that the Browns are correct in their suspicions, and that Henry was telling lies about having known Solomon Spalding? I think not. .For one thing, Solomon Spalding's widow testifies to knowing Mr. Lake and another of the Conneaut witnesses personally; she says that on his visit to her residence in Monson, just before the beginning of 1834, "Dr. Hurlburt brought with him an introduction and request for the manuscript, which was signed by Messrs. Henry Lake, Aaron Wright, and others, with all of whom I was acquainted..." Spalding's widow hadn't lived in the Conneaut region since 1812, so it is reasonable to assume that she became "acquainted" with Henry Lake and Aaron Wright way back then, correct? But could this statement be a false memory, or, worse yet, words placed in the widow's mouth by unscrupulous anti-Mormons (as the Browns insinuate on page 226 of their book)?

A quick look through the Solomon Spalding Miscellaneous Papers on file in the New York City Public Library brings to light a business agreement Henry and Solomon wrote up on March 8, 1811. Maybe Henry just plain didn't get to Solomon's neck of the woods until around that time -- on page 221 of the Browns' book they reproduce his own words: "I left the State of New York, late in the year 1810, and arrived at the place (Conneaut), about the first of January following." However, somebody might say in objection, none of this proves Mr. Lake was really there; this could be just more lies set out to deceive us!

OK, OK -- I promised you voter lists and you'll get voter lists. At least the anti-Mormons cannot be accused of forging those venerable documents. It's a long journey from my home in Hilo, Hawaii to the Western Reserve Historical Society Library in Cleveland, Ohio, but the nice librarians there have saved me the trip, by mailing me copies of a few items from their files. The 1811 "List of... Male Inhabitants above twenty one years of Age in the township of [New] Salem..." seems like a good place to start my search. It was accepted and signed by Timothy B. Hawley, the "Clerk of Ashtabula County. Ohio, on May 28, 1811, after being written up by Nehemiah King (the man who originated the Spalding claims -- but that's a story for another day). "Lister" King tells us that "Henry Lake" was eligible voter #66 on his roster. Gee, I wonder if that's the same Henry Lake that the Browns call a "missing witness" on page 225 of their book? "John Spaldin" is even there, living with his brother Solomon for a few months before homesteading across the state line. I also see "Nahum Howard" (#64) and "Aaron Wright" (#39) and a bunch of other folks whose names appear in all those old Ashtabula county history books. You did look through the Ohio history shelves in the Mesa Temple Genealogical Library, didn't you, Bob and Rosie?

But we need not go even so far as the Mesa Library to see the 1811 New Salem list -- the LDS Church has microfilmed the document and it has been transcribed and placed on line at: http://www.rootsweb.com/~ohashtab/1811SalemCen.htm Where you see an asterisk beside a name in that web-document, the transcriber says the same name appears on an 1815 list (an old document I have not seen).

The 1819 enumeration of eligible voters (also on file in thay same library in Cleveland) lists "Henry Lake" (#110), Aaron Wright (#161), and "Nahum Howard" (#77). The same document for 1823 names "Henry Lake" (#11), "Aaron Wright" (#81), and "Nahum Howard" (#23) -- but it also lists a "Nathaniel Howard" (#101), so let's erase that earlier penciled-in entry for "Nan. Howard" from the 1811 tax lists. Skipping ahead a number of years, I see that the Ashtabula county voter list for 1835 shows a "Loring Gould," so maybe the Browns can squeeze in a supplemental column for that year into their handy dandy tabulation on page 225, and let the readers of their next edition know that the missing Lorin Gould has been found and was at least 21 years old in 1835.

What was it again now, that the Browns told their readers on page 222 with a such a straight face?

Hiram Lake, Henry Lake's son, provides his testimony to the truthfulness of what his father wrote. Among other things, Hiram Lake says, "I am sixty-nine years of age, and have lived all my life in Conneaut, Ashtabula Co., Ohio. My father, Henry Lake, was partner with Solomon Spalding, in 1811 and 1812, in a forge in Conneaut (then Salem)." This author found that neither Henry Lake nor any of his family is in the census for Ashtabula County for 1810 or 1820. He can be traced elsewhere in Ohio from 1830 on. Therefore, the testimonies of Henry Lake and his son, Hiram Lake, are suspect....

I'll admit it, Henry just plain isn't there in that famous 1810 Ohio Census report, just like Brother Brown keeps telling us. I don't see him in the 1820 index either (at least there really was a Census report for Ohio that year). Could it be that he was out of town the day the census-taker dropped by? Or, maybe that year he was living with his wife's father's family and was not the head of a household. I'll let the Browns chase that one down. As for me, I'll put my bet on Henry Lake having been a real person, who actually lived in New Salem and whose son Zaphna was the anti-Mormon Sheriff of Ashtabula county in 1832-33 -- a fellow who made sure that those transient Mormon missionaries (like elders Orson Hyde, Samuel H. Smith, and D. P. Hurlbut) were kept moving right on through his domain until they crossed the state line into Pennsylvania's Erie county.

Speaking of Orson Hyde (the first man to preach Mormonism at New Salem, I believe) I've suddenly realized that the Browns could have spared me all the agony of writing the last 100 lines of this exposition, had they merely revealed in their book that Apostle Orson Hyde checked things out in New Salem and couldn't find anything worthwhile to say about Spalding's old friends and neighbors. We can be quite sure that if Elder Hyde had been able to dig up any dirt on those eight Conneaut witnesses, he would have made sure it was printed on the front page of the Kirtland newspaper in 1835: "So-Called Conneaut Witnesses Checked Out and Found to be Lying Deceivers! -- Most Never Even Lived There!!" But that isn't what the good elder reported at all. Hyde kept the sober news of his Conneaut investigations in his back pocket for several years, before finally saying just a little about them in an obscure British pamphlet: "In the spring of 1832 I preached in New Salem, Ohio; the place where Rev. Mr. Spaulding resided at the time he wrote his romance... I raised up a branch of the church at that place, and baptized many of Mr. Spaulding's old neighbours... I then [in late 1834 or early 1835] went to these neighbours of Mr. Spaulding, and enquired of them if they knew any thing about his writing a romance... They said that Mr. Spaulding wrote a book, and that they frequently heard him read the manuscript..."


The Missed Mormon Opportunity of 1835

Oh, my stars and garters! Orson Hyde conducted interviews with Spalding's "old neighbors" back when the authorship claims were just beginning to spread! Why, Orson could have returned to Ohio, published his findings, and blown the Solomon Spalding authorship claims for the Book of Mormon clean out of the water! But he didn't. That task got handed on down as far as the time of Robert L. Brown, and still we do not know what Orson Hyde heard personally from Aaron Wright, Oliver Smith, John N. Miller, Nahum Howard, and Henry Lake (that would be the same Henry Lake who was just then shaking up the testimonies of local Mormons like my ancestral relative Andrews Tyler, the first Mormon to leave the Church over the Spalding claims, by the way). Orson didn't publish his findings because he had nothing worth publishing, pure and simple. Oh, and don't forget to scratch out Apostle Hyde's seeming claim of having established an LDS branch at New Salem after preaching Mormonism there at the beginning of 1832. The two LDS congregations which were built up in the greater Conneaut region both were located safely across the border in Pennsylvania, out of the reach of hostile officers of the law, related to witness Henry Lake or Judge Aaron Wright. And, besides that, the branches were ephemeral; the LDS historian who chronicled their stories admits that the 1833 anti-Mormon preaching of D. P. Hurlbut in Erie county sealed their doom -- both were defunct by 1836 or so, Orson Hyde's boastful efforts to the contrary and notwithstanding.


Anything to Get Them into the Church!

I've been told a story (I hope it's just a story) about how some of the first Reorganized LDS missionaries used to operate here in Hawaii. Two elders would go to the center of a town, one dressed in a suit, the other in local clothes. The elder in the suit would stand on the street corner and begin preaching in a loud voice, then the disguised elder would come up to him and begin to argue about "Mormonism" in an equally loud voice. Generally a crowd of curious onlookers would soon gather about. Once the crowd was listening well to all that was being preached by the elder in the suit, the disguised elder would begin to agree, saying, "I guess you're right after all -- that Book of Mormon sounds like a very book, etc., etc." At the end of the preaching the disguised elder would loudly demand that he be baptized immediately, and the elder in the suit would lead the whole crowd down to the beach, where they'd all witness the phony baptism. Sometimes one or two folks in the crowd would end up getting baptized also.

When I first heard that rumor from an old Hawaiian here, I was shocked. I demanded, "Is that any way to run a mission?" The fellow gave me a wink of the eye and said, "Well, anything to get 'em into the Church!"

In sincerely hope that the Utah Mormons have never used such tactics in their missionizing. But the point I really wish to make is that certain Latter Day Saints appear to turn a blind eye when confronted with historical and doctrinal misrepresentations made by their own coreligionists. Why is it that the people at the FAIR website have put the Browns' They Lie in Wait to Deceive II on-line with no accompanying "addendum" or "erratum" to let us all know that the Browns' chart on page 225 is a bogus document? They cannot plead total ignorance, for the Berean Christian Ministries website has for over two years publicized this very point -- in their page on Dick Winwood's book. According to Berean Christian Ministries: "... there was no 1810 census in Ohio. The U.S. government did not take a census in Ohio in 1810 according to the two following books: "Researcher's Guide to American Genealogy," by Val D. Greenwood, 2nd edition, Genealogical Publishing Co., Inc., page 193. According to this book the first census in Ohio was in 1820. A second book says the same thing, "Federal Population Censuses 1790-1890," National Archives and Records Service, General Services Administration, Washington, 1971, page 3. There is no Ohio census listed for 1810."

Not only that, but the operators of the Berean website have been vocal in numerous public encounters with the LDS (at temple dedications, firesides with GAs, etc.) and have frequently initiated discussions over the errors and misrepresentations they claim to find in the Browns' four book series. Has not one word of this ever reached Mr. and Mrs. Brown, their advocates, their book sales people, or their publisher?

I used to have some links among my own webpages over to Richard I. Winwood's on-line text to Take Heed That Ye Be Not Deceived, (Salt Lake City: Richard I. Winwood, 1995). There I documented how Dick was selectively quoting the Browns in his own book (on page 88, and in his section on "The Great Deceivers -- Howe, Hurlbut, etc.") to assert that the Conneaut witnesses never even existed -- therefore the entire basis for the "Spaulding theory" was a fraud, devised by those who lie in wait to deceive. And, for the life of me, I was never able to figure out whether Bro. Winwood was deceived (by the Browns, in this instance) or was a deceiver himself. However, the offending e-text mysteriously disappeared from the web recently and I'm too lazy to track down a digital copy by logging onto archive.org.

If the phony 1810 column on the Browns' page 225 chart were the only error or misrepresentation in their book(s), I would not be overly concerned -- the effects it might have upon the over-active imagination of Dick Winwood and his ilk notwithstanding. But that single, easily understood and grasped misrepresentation on the part of the Browns is merely the tip of a much larger iceberg. In part 4 of this exposition I'll demonstrate that fact. Just because I'm a Latter Day Saint, should I turn a blind eye to this sort of thing and join the "anything to get 'em into the Church" crowd? In this case, I think that would really be the "anything to keep 'em in the Church" crowd, since the Browns' appear to enjoy practically all their book sales among those already in the LDS Church. I'll wait and see what the response is at the FAIR website, as those new publishers for the Browns may not yet fully comprehend the snow job that the Mesa Mormons are attempting to pull off. Perhaps the FAIR people will one day add that little note, saying that volume 2 in the series has a few teensy problems in its text.


The End of the Beginning

I'll finish off this section of my exposition with a few brief notes regarding the persons listed in the Browns' table on page 225 of They Lie in Wait to Deceive II:


1. General Notes:
The presence of the "Conneaut witnesses" in the lands along the OH/PA border south of Lake Erie is well attested. While all their names may not appear in every Census record issued between 1810 and 1840, that fact is understandable, given the circumstances under which census data was then gathered. Many persons were missed altogether in the 1820 Ohio census, because it was a frontier region, sparse settled, and with few roads. Persons living in the area during the 1820, 1830, and 1840 census-taking were only listed by name if they were the head of a household -- thus resident workers, servants, renters, grandparents, and other resident relatives were typically missed in the recording of names. Names were frequently misspelled in the Census reports and first names were often rendered only as initials. It is not unusual in those records to see a surname reversed with a given name. All of these various errors are to be expected, on practically every page of every record preserved -- and not all records have been preserved.

Rather than relying solely upon census data to provide lists of residents in a given area, the serious historical or genealogical researcher must make use of land documents, tax lists, and various vital records typically available in county courthouses and other local repositories. Persons and events in the area around New Salem (Conneaut) Ohio were well recorded in several local histories. According to E. D. Howe (in whose 1834 book the witnesses' statements first appeared), he made a special effort to locate the "Conneaut witnesses" in order to confirm the statements collected from them by D. P. Hurlbut, and at the very end of 1833, Hurlbut himself made out an informal affidavit attached to the "Oberlin Spalding MS" again naming "Aron Wright, Oliver Smith, John N. Miller and others" as having identified that particular work as being the creation of Solomon Spalding.

E. D. Howe's book containing the eight statements of the "Conneaut witnesses" was printed in November of 1834, little more than a year after D.P. Hurlbut gathered their statements. Several hundred copies of the book were circulated and it is unlikely that the Kirtland Mormons would have allowed bogus statements signed by non-existent or non-resident witness to have gone unchallenged.

2. Lorin Gould:
If Lorin Gould was born c. 1814 (66 years old in 1880) he would have been a child during the years 1820 and 1830 and his name would not have shown up in those early census records (which named the male head of the household). In his 1880 Statement Gould did not claim to have known Solomon Spalding, only some of the "Conneaut Witnesses. David Gould (Lorin's uncle?) settled in New Salem (Conneaut) c. 1800-1810.

3. John Spalding: (1774-1857)
John Spalding was Solomon Spalding's brother, born January 10, 1774, in Ashford, Windham, CT; he moved from Richfield, NY to Erie Co. PA in 1810. The title to his land in Erie was not clear and he moved across the state line to New Salem, OH. There his name appears as #48 (just below Solomon's) on the 1811 New Salem voter's list. In late 1811 or early 1812 John and his wife moved to Conneaut township, Crawford Co., PA -- a few hours' walk from New Salem. His wife Martha's name (not being the head of the household) does not show up in the earlier census records. According to the entry for him in the Spalding Memorial, in about 1842 John Spalding and his family left the Conneaut area and moved to Illinois; he died Mar. 22, 1857, in Lisle, DuPage co,, IL. See also his 1851 statement.

4. Oliver Smith: (c. 1780-?)
Oliver Smith was an early settler of the Conneaut region. However, as "Smith" is a common surname, Oliver may have been a member of any one of the Smith families settled along the OH/PA border south of Lake Erie. He is known to have owned a farm bordering on the southern shore of the lake, not far east of the state line in Springfield county. His next door neighbors in 1833-34 were Mormon Elders, John Rudd, Jr. and Erastus Rudd. In the 1810 Census report Oliver is shown living in Erie county, presumably in Springfield township. In the 1820 Census report Oliver is listed as head of a household in Erie county's Northeast township, but in the 1830 report his is shown back in Springfield county again.

5. Henry Lake (1772-1850):
Henry Lake was born in VT (probably in Windham co.) on June 4, 1772; he later lived in East Bloomfield, Ontario co., NY and Batavia, Genesee co., NY. Henry married Abigail Spring (1773-1839) on Feb. 18, 1793. He is very likely the same Henry Lake shown in the 1810 Census report as living in Chenango co., NY. Several histories of Ashtabula co. mention Henry Lake. He came to New Salem (Conneaut) at the beginning of 1811, via Buffalo, Niagara co., NY. In 1811 he signed a partnership agreement with Solomon Spalding to operate an iron forge on Conneaut Creek. Henry Lake was the first landlord of the old "Mansion House" Inn at New Salem. It is unknown whether the "Henry Lake" shown living in Erie town, Erie county, PA in the 1840 Census is the same as the Ohio Henry Lake. In about 1845 Henry Lake moved to Kane co., IL (his wife Abigail having already died at Conneaut on Jan 27, 1839). Henry died in Aurora, Kane co., IL on June 3, 1850. Mr. J. H. Britton gave a sworn statement testifying to Lake's "good reputation for truth and veracity," a man in "every way well esteemed and respected in the [New Salem] community."

6. Aaron Wright: (1775-1855)
All the early histories of Ashtabula co., OH mention Aaron Wright. Wright was born on March, 19, 1775, presumably in New England. According to his obituary in Nov. 17, 1855 Conneaut Reporter, Aaron came to the banks of Conneaut Creek from Harpersfield, Delaware co., NY in 1798; the following year built a house in what was to become New Salem. The first religious services in Ashtabula county were held in his cabin. Wright operated the first grist mill in the area, served in the local government (including being a Justice of the Peace in 1813-1815), and beginning in 1833 he operated a retail store in the town. Wright married Anna Montgomery (1784-1857) on March 12, 1800 (in one of the very first marriages celebrated in the Ohio Western Reserve). Judge Wright died on Nov. 10, 1855 and was buried in the Conneaut Cemetery.

7. John N. Miller: (c. 1780-?)
John N. Miller came as a settler in Springfield township, Erie, co. in 1800. For a short time the pastor of his church in West Springfield was the Presbyterian minister, Rev. Robert Patterson, Sr., later a publisher and bookstore operator in Pittsburgh, PA. The 1810 Census report shows a "John N. Miller" living in West Springfield in Erie co. Miller's September, 1833 statement for D. P. Hurlbut specifically states that it was written down in "Springfield, Pa." (in Erie co.) where Miller then lived. See also the report given by Miller's daughter Rachael, saying that they knew the Spaldings, etc.

8. Nahum M. Howard, Sr.: (c. 1780-1841)
Dr. Nahum Howard reportedly originally came from near Sidney, Kennebec co., Maine. One report has him marrying Beriah Plimpton in Medway, Norfolk co., MA on Nov. 15, 1798, but Dr. Howard's wife of record was Elizabeth Sawtelle, whom he married in about 1800, probably in Sidney, Kennebec, ME. They had at least ten children, most of whom were born in Ashtabula co., OH. Nahum was in New Salem by May of 1811, for his name appears on the New Salem voters' list for that year. The 1820 Census report shows him living in Salem township, Ashtabula co., OH, as do also the 1830 and 1840 reports. Dr. Howard died on June 17, 1841 and was buried in the Conneaut Cemetery.

9. Artemas Cunningham: (c. 1790-1839)
Little is known of Artemus Cunningham. He possibly the same Artemas (or Artemus) Cunningham who was born in Solomon Spalding's own home town of Ashford, Windham, CT. in 1790, though more likely the one born in Spencer, , MA in 1782. According to his statement in E. D. Howe's 1834 book, Artemus went from Madison township. just west of Geneva, to New Salem to collect a debt from Solomon Spalding. He was in Ohio by May 20, 1813, when he married Martha "Patty" Hanks, who was originally from Hartford, CT. The couple got hitched by the Rev. Jonathan Leslie in Madison, Geauga, OH. They had at least three children, all born in Madison between 1814 and 1822. Artemas paid taxes in Geauga co., in 1814. He is listed in the 1820 Census report as living in Madison. By 1833-34, when he provided the statement published in Howe's book, Artemas was apparently residing in Perry township (just west of Madison), Geauga co., OH. This may be the same Artemas Cunningham who is on record as having married Sarah Hanks in Ohio in 1830. On Aug. 21, 1837, Artemas filed for a deed to 81.6 acres of land in Ohio. Artemas' will went through probate in Ohio in 1839; after that date his name disappears from the public records.