Spalding's Names and Proper Nouns

Section A: Tables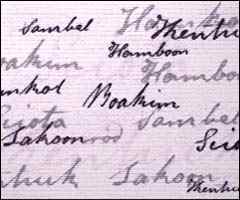 Please Read Notes Before Consulting Tables


1. Plurals/possessives formed with "s" are grouped with their roots

2. Spellings are standardized under single entries in the Concordance; including author overwritings ("over"), and modernized spellings (strike-out)

3. Animals, plants, elements, heavenly bodies, etc. are not listed (except "Mammoon"/"Mammouth")

4. Personifications are listed and counted apart from non-personified occurances of words

5. Codes: s/ = by Spalding, n/ = normal, /f = female, /m = male

6. Clicking on any word in the center column of Table A will take you to a list of that word's occurances in the Oberlin MS. The list is an extract taken from an on-line Oberlin MS Concordance. All names in that on-line textual resource have been standardized to a single spelling. Consult Table A for variant spellings.